I'll admit it, the thought of handling a whole coconut is a little daunting.  Where do you start?  The good news is that it's actually pretty easy and a great way to Savor the Summer!
School's out! It's time to focus on enjoying the long days of summer with family and friends. Barefoot temps, fresh and simple meals, doing as much as possible outdoors… there's an especially delicious pace to summer. One of the best ways to savor the summer is by enjoying a whole coconut.

How To Open a Coconut
Step 1: The first step in handling a coconut is getting through the tough outer shell.  Inside the coconut, there is nutritious and delicious coconut water so it's important to open the coconut in such a way so that you can save the coconut water. On the top of the coconut, there are three "eyes" or holes.  You'll want to insert a screwdriver or knife (be careful) into the hole that is the softest.  If using the screwdriver, tap it with a hammer to help open up the hole.
Step 2: Next, you'll tip over the coconut into a bowl or glass and allow the coconut water to drain.  Strain the water through a fine mesh strainer to remove and bits or pieces and store in a mason jar in the refrigerator for later use.
Step 3:  The next step is cracking open the coconut and there are a couple of ways to get the coconut open.  Wrap the coconut in a tea towel (lint free kitchen towel) and forcefully swing the towel onto a hard surface (like a concrete patio, etc.) or smash it with a hammer allowing the coconut to crack into a few pieces.  You may find it easier to bake the coconut before trying to crack it open.  You'd place the coconut on a baking dish into a 375 F preheated oven and bake for about 10-15 minutes or until the coconut begins to crack.  Then you'll allow it to cool before wrapping it in the tea towel and smashing it on a hard surface or with a hammer.
Step 4:  After cracking the coconut open, you'll want to separate the white meaty flesh from the brown shell.  Simply wedge a knife (carefully) between the shell and coconut meat to separate the flesh of the coconut.  Then, using a vegetable peeler, peel off the brown fibers/skin remaining on the coconut meat.
Step 5:  Enjoy the coconut!  Check out the many different ways below to use the whole coconut.

How To Use a Whole Coconut
Water:  Enjoy the coconut water you saved by adding it to smoothies, curry dishes, or enjoy it as a fresh electrolyte filled drink.
Coconut Chips:  One of my favorite snacks is making coconut chips.  You can make them either savory or sweet. Simply use a vegetable peeler to peel off strips of the coconut meat and spread into a single layer onto a rimmed baking sheet.  Sprinkle with salt (for savory) or cinnamon and coconut sugar (for sweet) and bake at 350 F for 10 minutes or until lightly toasted.
Coconut Butter:  Once the coconut chips are toasted you can turn it into a smooth and creamy Toasted Coconut Butter (learn how here).  It's also great with warmed, but not toasted, coconut meat (learn how here).  
Shredded Coconut: To make shredded coconut, grate the coconut meat using a fine grater.  Dehydrate the coconut at the lowest setting (I used 95 F) until completely dried.  If using the oven method to dehydrate the coconut, prop the oven open slightly to help lower the temperature if your oven doesn't go as low as 95 degrees and keep a close eye on the coconut.
Coconut Milk: It's easy to make homemade coconut milk without any added thickeners or fillers.  Peel off strips of the coconut meat using a vegetable peeler.  Place it in the bowl of the blender and add 4 cups of very hot water.  Blend for two minutes or until thick and creamy.  Drain the coconut milk through a fine mesh strainer or nut milk bag. Learn more here.
Coconut Flour:  What do you do with the leftover pulp from making coconut milk?  Use it to make coconut flour of course.  Learn how to make coconut flour here.
Take the Pledge!
The Savor the Summer Challenge is all about enjoying the fruits of the season and making memories. In celebration of savoring the summer, make the commitment to try something new and use every little bit of a whole coconut.  It's a small but mighty step in savoring the summer, and you'll automatically be entered into the giveaway to win $100 gift card from MightyNest so you can pick up all the items you need to enjoy a whole coconut.
What We're Giving Away
When you take the pledge to enjoy every part of the coconut, you'll be entered to win a $100 gift card from MightNest so you can purchase items like:
You'll also earn points for your local school to help them win $500 this month in the MightyNest for Schools "Savor the Summer" Challenge. Just click the button below that says "I Pledge" to enter!
What's really cool about the MightyNest for Schools fundraiser is how they inspire and reward healthy living by families right alongside raising funds for schools. In addition to giving 15% of every purchase back to schools, MightyNest informs and engages the school community on a wide variety of healthy living topics through blog posts, challenge actions, blogger giveaways and weekly e-newsletters.
Here's how to enter:
1. Pledge to savor the summer and enjoy every little bit of the coconut!
2. Support your local school by choosing them to win up to $500 in the MightyNest for Schools Savor the Summer Challenge. All you have to do is select a school (based on zip code) when you pledge. MightyNest will accept pledges until June 30th. The school with the most points on June 30th will win $500!
 Plus, the winner of your giveaway will win a $100 MightNest gift card + $100 for their school.
Click Here to Pin It!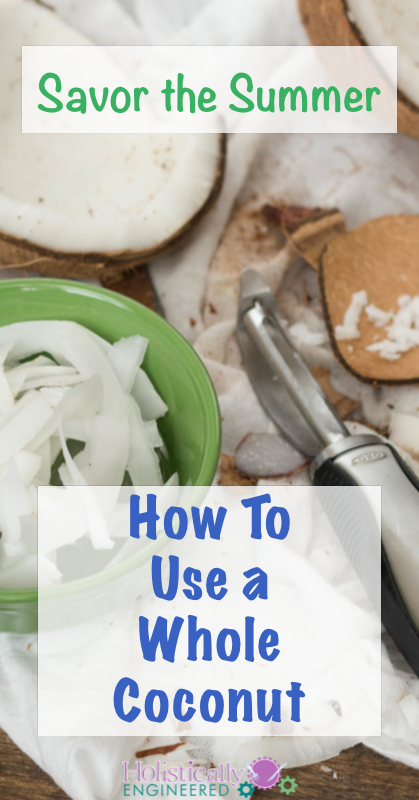 This giveaway is sponsored by Mighty Nest. Thank you for supporting companies I believe in, as it helps me to continue developing recipes, and creating unique content for you to enjoy.
Click +1 Below
DISCLAIMER: Not intended to diagnose, treat, or cure any disease. Always consult a doctor or authorize medical professional before changing your diet, medications, etc. PAID ENDORSEMENT DISCLOSURE: In order for me to support my blogging activities, I may receive monetary compensation or other types of remuneration for my endorsement, recommendation, testimonial and/or link to any products or services from this blog. Some links on this site are affiliate links, including Amazon.com affiliate links. If you purchase a product through an affiliate link, your costs will be the same but Holistically Engineered will receive a small commission. This helps cover some of the costs for this site. I appreciate your support!