It's always nice to have some different veggie options to turn to when you're wanting something a little different.  When I first started posting recipes with carrots most people were shocked because they aren't considered "low carb" (at least not very low carb).  One thing I have learned over the years is that you have to listen to your body.  Sure I could eat lower carb veggies like broccoli and cauliflower, but with me having SIBO now (learn more about SIBO here) they automatically cause me to get bloated.  If I instead have some carrots then I don't get that same bloat.  For me, right now, I have to focus on eating low-FODMAP vegetables and in most cases those are low carb vegetables (plus more).  FODMAP stands for Fermentable Oligosaccharides, Disaccharides, Monosaccharides And Polyols. They are short-chain carbohydrates and can be easily fermented by gut bacteria (especially if you have a gut impairment). You can learn more about FODMAPs here and find a list of FODMAP foods here.  When I eat foods that my body responds well to, my gut has a chance to heal, I absorb my nutrients better, have reduced inflammation, and automatically lose weight naturally.  I spent years trying to fit into a one size fits all approach and that doesn't always work.  Sure I lost weight, but I wasn't truly healing and eventually hit a wall with weight loss.  It's great to have a starting point, but it's also nice to be flexible enough to listen to what your body is telling you about the food you eat.
Click Here to Pin It!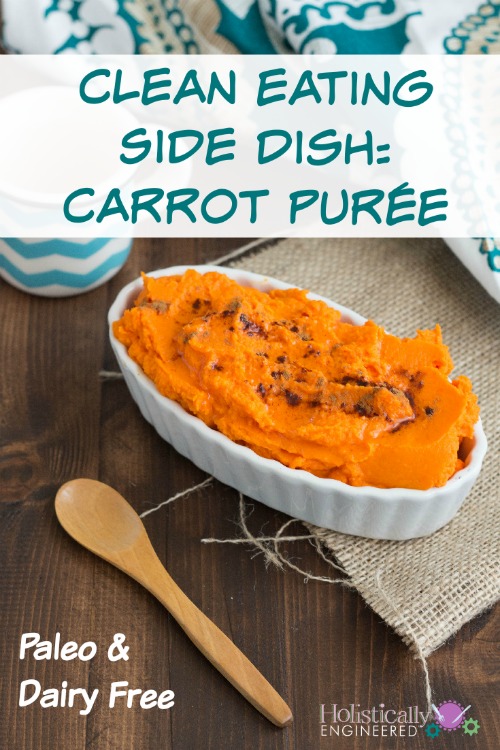 Ingredients
For savory

2 lbs carrots, peeled and cut into even
2 Tbsp coconut oil (Get coconut oil here)
1 tsp real salt (Get real salt here)
1 tsp chopped fresh rosemary or 1 drop Rosemary essential oil (get essential oils here)
1 tsp chopped fresh sage or 1 drop Sage essential (get essential oils here)

For sweet

2 lbs carrots, peeled and cut into even pieces
2 Tbsp coconut oil (Get coconut oil here)
1/2 tsp ground cinnamon or 1 drop Cinnamon Bark (get essential oils here)
1/4 tsp ground clove or 1 drop Clove (get essential oils here)
1/4 tsp ground nutmeg or 1 drop Nutmeg (get essential oils here)
Instructions
Bring a pot of water to a boil over high heat.
Add carrots and boil for about 10 minutes or until tender.
Drain the water, add the coconut oil, and use an immersion blender to blend until smooth.
Add the salt (for savory) and desired essential oils, spices, or herbs. Stir to combine.
http://holisticallyengineered.com/2015/01/paleo-side-dish-carrot-puree.html
DISCLAIMER: Not intended to diagnose, treat, or cure any disease. Always consult a doctor or authorize medical professional before changing your diet, medications, etc. PAID ENDORSEMENT DISCLOSURE: In order for me to support my blogging activities, I may receive monetary compensation or other types of remuneration for my endorsement, recommendation, testimonial and/or link to any products or services from this blog. Some links on this site are affiliate links, including Amazon.com affiliate links. If you purchase a product through an affiliate link, your costs will be the same but Holistically Engineered will receive a small commission. This helps cover some of the costs for this site. I appreciate your support!