This content will be shown before all post
Whole 30 Italian Beef Sandwiches
I have now completed Day 30 of
Whole30
.  I love the way that I feel after completing the program.  A few people were curious about my experience on the Whole30, so I thought I would summarize my journey with this post.
The biggest thing that Whole30 showed me was to look at labels (or limit eating foods that even have labels made by
custom label printing Melbourne
).  I've always looked at the label for the nutritional info, but I never really stopped to think about all of the extra "junk" that is added to products.  It really opens your eyes to what exactly you are eating and how easy it is to make slight adjustments to improve what you eat.
Overall, I have lost 14 lbs which is almost all of the weight I had gained while I was going through the hormone/thyroid (self-diagnosed) issues before I started Whole30.  Before Whole30, I was hungry ALL THE TIME and no matter what I ate I was still hungry.  I am so happy to report that my hunger issues are gone and I can go much longer without eating.  I no longer have to get anxious about not having food with me when I go run errands or if I am away from my house.  It is such a wonderful feeling!  Also, I was able to curb those pesky cravings for sweets and snacking at night. Throughout this Whole30 Program, I maintained my low carb diet (no super starchy/carby veggies except carrots) because I still have weight that I want to lose.  I'm going to continue a modified form of the Whole30 while I try and figure out the foods I'm allergic to.  I'm also planning to see an allergist to hopefully narrow down the list of allergies.  The Whole30 made it clear to me that my body just cannot handle certain foods and I shouldn't be eating those foods.  I'm looking forward to continuing this journey and hopefully healing my body and the inflammation/bloating I had been experiencing.
For me, the cons were not really being able to go out to eat, because most restaurants do not use Whole30 approved cooking methods, which requires you to do some research with the restaurants ahead of time which isn't always convenient.  I sometimes felt my ingredients were limited because I also gave up nuts, eggs, and nightshades during the Whole30, but that did force me to be creative.  I know I have food allergies, but I found it difficult to really narrow down what the allergies are so I'm going to continue to focus on that.  For those of you who are considering the Whole30 program, I definitely recommend it.  It is only 30 days and it can really help to reset your body after a long period of your usually low carb diet.  If you are still unsure I would suggest reading It Starts With Food for more details on how foods affects your body.
My meals for Day 30 were:
Breakfast:  Leftover Pork Burgers with Radish Fries and roasted zucchini
Lunch: Tuna with carrots and cucumber (dressed with lemon juice and olive oil)
Dinner: Italian Beef "Sandwiches" (recipe below) with Roasted Cauliflower, carrots, and zucchini
Click Here to Pin It!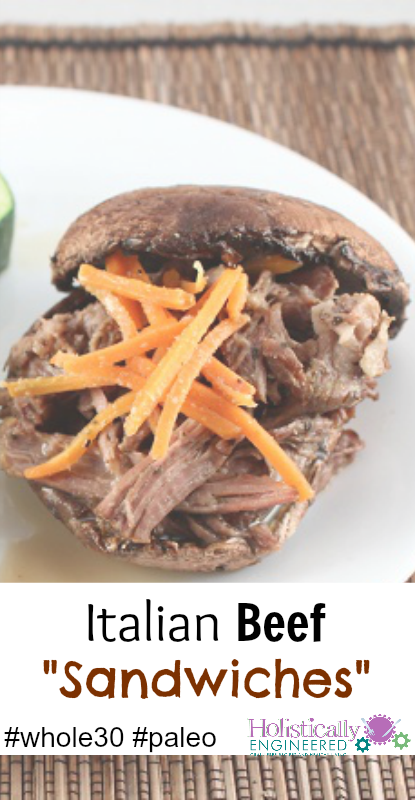 Whole30 Italian Beef "Sandwiches"
Ingredients
2 1/2 lbs grass fed beef chuck roast
1 tsp dried basil
1 tsp dried oregano
1 tsp dried crushed rosemary
1 tsp garlic powder
1 tsp onion powder
1/4-1/2 tsp salt
1/4 tsp black pepper
1/2 cup water
1 Tbsp red wine vinegar
2 Tbsp Dijon mustard
6 large portobella mushroom caps
Instructions
Heat 1 Tbsp of oil in a large skillet over medium-high heat.
Combine all the spices together and rub them onto the roast.
Sear the roast on one side for 4-5 minutes. Flip the roast over and sear for another 4-5 minutes. . Place the roast into the slow cooker and add the water and red wine vinegar.
Cook on LOW for 7-8 hours.
Remove the beef and shred the meat.
Skim any fat off of the juice left in the crock pot and then add the Dijon mustard.
Stir to combine.
Add the shredded beef back to the crock pot and use portobella mushroom "buns" (Drizzle with oil, salt, and pepper and roasted for about 10 minutes at 450 F) for serving.
Served with Roasted cauliflower, carrots, and zucchini.
Notes
Net Carb Count*: Whole30 Italian Beef "Sandwiches": 6 net carbs for beef and 16 net carbs for six mushrooms caps--a little over 7 net carbs per "sandwich"
*Note carb counts are estimated based on the products I used. Check nutrition labels for accurate carb counts.
This was adapted from The Foodie & The Family.
https://holisticallyengineered.com/2012/09/whole30-italian-beef-sandwiches.html
Comments:  The beef had so much flavor and the Dijon sauce made it nice and moist.  I added the red wine vinegar so it would be easier to shred the meat once it was done cooking.  I ended up serving the sandwiches open faced so the mushrooms would stretch further.  I topped each sandwich with roasted shredded carrots.  My fiance topped his with some mozzarella cheese and put them in the oven to melt the cheese.  The leftovers were fabulous!
This content will be shown after all post