This content will be shown before all post
No Bake Almond Butter Bars
One of the desserts I used to make all the time was Peanut Butter Bars.  Last year I created a low carb version that was delicious, but still required baking to make the "graham cracker" crumbs.  This year I wanted to create a no bake version and I also wanted to make the bars with almond butter since it's one of my obsessions lately.  These bars are easy to throw together and perfect for any gathering you have this holiday season.  Word of warning these will be so popular that you may need to make a double batch!
What's your favorite holiday treat?  I'd love to hear about it in the comments below. 🙂
Click Here to Pin It!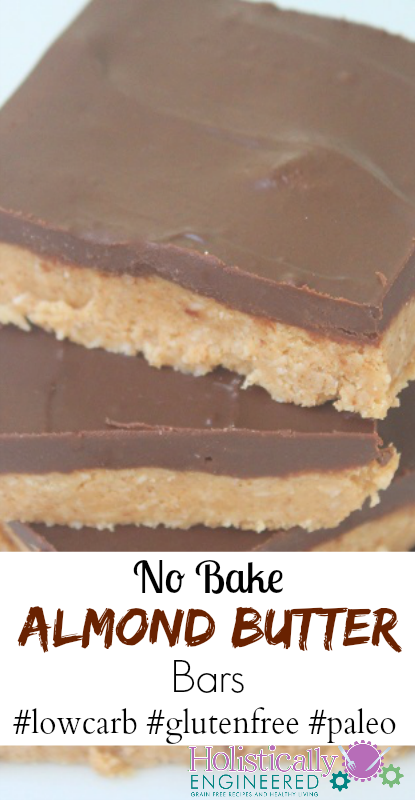 No Bake Almond Butter Bars (Low Carb and Gluten Free)
Ingredients
3/4 cup almond flour
3/4 cup equivalent powdered sweetener (Use powdered coconut sugar for Paleo or powdered sweetener)
1 cup + 2 Tbsp almond butter (or any nut butter)
2 Tbsp coconut oil
4 1/2 oz dark chocolate
Instructions
In a large bowl, combine the almond flour, coconut, and sweetener.
Over medium-low heat melt 1 cup of almond butter and coconut oil.
Once melted, add the almond butter to the dry ingredients and mix well.
Press the mixture into a 8" x 8" baking dish.
Over medium-low heat melt 2 Tbsp of almond butter and the chocolate.
Once melted, pour the chocolate over the almond butter mixture and smooth out the top for even coverage.
Refrigerate for 2 hours or until the almond butter mixture has set. To reduce the amount of time for the almond butter mixture to set place the bars in the freezer until set.
Cut into 12 even bars.
Notes
No Bake Almond Butter Bars: 5.5 net carbs per serving (yields 12 bars)
Almond butter layer with the chocolate: 33 net carbs for the entire layer (without chocolate topping)
https://holisticallyengineered.com/2012/11/no-bake-almond-butter-bars-low-carb-and.html
This content will be shown after all post