This content will be shown before all post
Pizza Spaghetti Squash Casserole Recipe
So the other day my mom shared a recipe on Facebook that was a pizza spaghetti bake that used pasta as the main ingredient.  My mom usually does a good job of reducing carbs because she loves the results she gets when she leaves them out of her diet, but every once in awhile she'll find recipes that she wants to try that are full of carbs and other non-real food ingredients.  Since it's my mother I don't want to come off as overbearing and fanatical about not eating grains, etc. so I just left her a lovely comment saying I could make a delicious version without the pasta!
One of my favorite substitutes for pasta is spaghetti squash and I knew it would be perfect in this dish.  Maybe it was because I hadn't had pizza in awhile, but that was one of the best dinners I've had all year.  Even my fiance, who hates spaghetti squash, loved it.  I was so glad a had a few meals worth of leftovers!
Click Here to Pin It!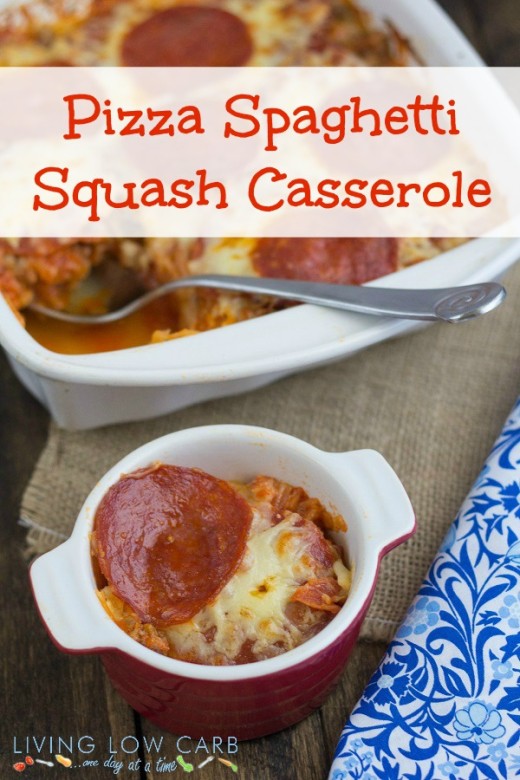 Pizza Spaghetti Squash Casserole
Ingredients
1/2 lb ground Italian sausage
4 cups cooked spaghetti squash
3 cups marinara sauce
2 large eggs
1/2 tsp sea salt
1/2 tsp oregano
1/2 tsp garlic powder
2 1/2 oz pepperoni
1/2 cup Dubliner or Parmesan cheese
1/2 cup Mozzarella cheese
Instructions
Preheat oven to 350 F.
In a medium skillet over medium high heat, brown the Italian sausage until cooked through.
In a medium bowl, combine the marinara sauce, eggs, sea salt, oregano, and garlic powder.
Place the spaghetti squash into a 9x9" baking dish. Top with the marinara mixture and cooked Italian sausage. Stir to combine with the spaghetti squash and smooth into an even layer.
Top with a layer of half of the pepperoni, a layer of Dubliner or Parmesan cheese, and then a layer of Mozzarella cheese.
Top with the remaining pepperoni and make for 20-30 minutes until set and heated through.
Notes
Net Carb Count*: 8.05 g net carbs (for 1 serving)--makes 6 servings
Total Carb Count: 11.12 g total carbs (for 1 serving)
*Note net carb count = Total carbs - fiber. Carb counts are estimated based on the products I used. Check nutrition labels for accurate carb counts and gluten information.
https://holisticallyengineered.com/2013/11/pizza-spaghetti-squash-casserole.html
This content will be shown after all post