This content will be shown before all post
Who doesn't love a good chocolate cupcake?  Since tomorrow is my birthday I wanted to make a very special paleo chocolate cupcake to celebrate. Chocolate is my absolute favorite and naturally  I used it for my birthday treat.  These Paleo Chocolate Cupcakes are also filled with a coconut cream filling, made from the cream that rises to the top of a can of coconut milk.  The filling completely optional and you could probably fill them with other things like a homemade jam or almond butter.  Man, now I'm wishing I would have tried other fillings.  The frosting is made with avocados and I usually get comments from people that think I'm crazy for using avocado in desserts, but trust me, the frosting doesn't taste like avocado.  The avocado adds a creaminess and sweetness to the frosting which pairs perfectly with the cocoa powder.  If you make your frosting smooth enough you will never know what it's made from.  If your avocados aren't ripe enough you may have to run them through a fine metal strainer to work out any chunks.
Next time you have a birthday celebration these Paleo Chocolate Cupcakes will make a great addition to the party!
Click Here to Pin It!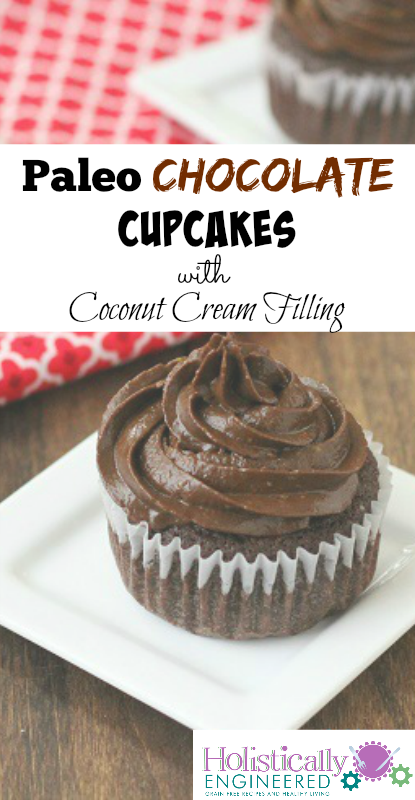 Ingredients
Instructions
Preheat oven to 350 F
Combine the coconut flour, cocoa powder, sweetener, baking soda, and sea salt.
In a separate bowl, combine the eggs, coconut oil, and lemon juice.
Add the dry ingredients to the wet and mix to combine.
Line a muffin tin with 7 cupcake liners.
Fill cupcake liners evenly with the batter and bake for 18 - 20 minutes or until cooked through.
Allow to cool before filling with cream and topping with the icing.
Once cool, cut a small whole in the middle of each cupcake, reserving the lid/top of the hole that was cut out.
Fill with cream (directions below) and place the lid/top back on the cupcake to cover the hole.
Pipe chocolate frosting (directions below) onto each cupcake and serve.

For the cream filling

Combine the coconut cream, sweetener, and vanilla and mix until smooth. Pipe the cream into the hole cut out of the cupcake.

For the chocolate frosting

Place the meat of the avocados in a mixer and mix until completely smooth.
Add the cocoa powder and sweetener and mix until thoroughly incorporated.
Add the butter and mix to combine.
Notes
Net Carb Count*: Chocolate Cupcakess: 7.14 net carbs for 1 cupcake (makes 7 cupcakes) or 5 net carbs without the cream filling
Total Carb Count for 1 cupcake: 17.04 carbs (add additional carbs for the sweetener used)
*Note carb counts are estimated based on the products I used. Check nutrition labels for accurate carb counts and gluten information.
https://holisticallyengineered.com/2013/07/paleo-chocolate-cupcakes.html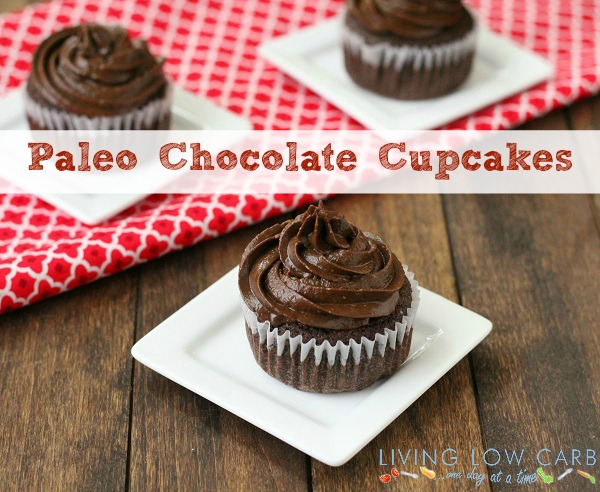 This content will be shown after all post