This content will be shown before all post
Looking for a grain free instant oatmeal? My recipe for Instant Cinnamon "Oatmeal" is one of the most popular recipes on my site and for good reason…..it's delicious!  I ended up coming up with some other flavor combinations: 1) Raspberries and Cream "Oatmeal" which is in my ebook, Awaken (check it out here) and the recipe below for "Brown Sugar" N'oatmeal (Get it?  No oats!).  Back in my carb and grain eating days, oatmeal was always an easy breakfast when I was in a hurry so having a grain free instant "oatmeal"  option is a really nice change of pace to my usual breakfast of meat and veggies.  What I love about this recipe is that you can make the dry mix up ahead of time and just make servings as needed.  I like to throw one serving of the dry mix into a mason jar and add some hot water when I get to work.  What an easy breakfast!  And the smell (and taste) transports me back to the days of eating a warm bowl of  brown sugar oatmeal.
Click Here to Pin It!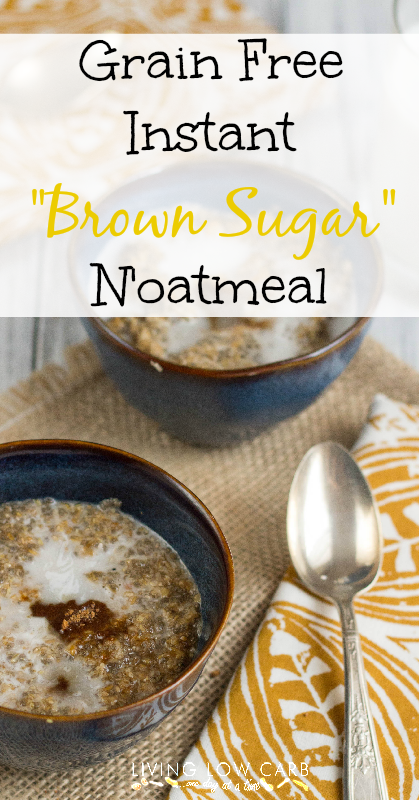 "Brown Sugar" Instant N'oatmeal
Ingredients
3/4 cup chia seeds
3/4 cup golden flax meal
1 tsp ground cinnamon
6 Tbsp coconut sugar for paleo (or for low carb 6 Tbsp granular sweetener)

For one serving of prepared "Oatmeal"

2/3 cup hot water
(For low carb, 1/2 tsp of unsulphured blackstrap molasses)
2 Tbsp unsweetened coconut milk
Instructions
Combine the chia seed, golden flax meal, unsweetened coconut, cinnamon, and coconut sugar (or granular sweetener) in an airtight container.
To make 1 prepared serving, scoop out ½ cup of "oatmeal" mix in a serving bowl and keep the rest stored in the airtight container.
Pour 2/3 cup of water over the "oatmeal" mixture and let sit for 3-5 minutes.
Add the molasses (if using) and 2 Tbsp of coconut milk into the bowl and stir to combine.
Notes
Carb Count* for 1 serving:
3.2 g net carbs (plus the carbs for the sweetener used)
12.3 g total carbs (plus the carbs for the sweetener used)
*Note carb counts are estimated based on the products I used. Check nutrition labels for accurate carb counts and gluten information.
https://holisticallyengineered.com/2014/02/grain-free-instant-oatmeal.html
Looking for more Egg Free Breakfast Recipes?
Check out my eBook Awaken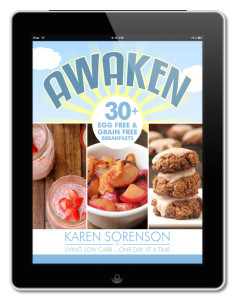 Click +1 Below:
This content will be shown after all post