This content will be shown before all post
Grain Free Instant Cinnamon "Oatmeal" Recipe
In the mornings I'm always dragging myself out of bed late so I don't have much time to eat breakfast before I leave the house.  I usually pack up a breakfast skillet or leftovers from the night before and enjoy that for breakfast at work.  Lately I've noticed a lot of people eating oatmeal in the mornings.  They dump the prepackaged junk in a bowl and add some hot water. Yum? Yeah, not so much.  It's not just the grains that gives me cause for concern…it's also the extra stuff that is added to the mix to create this Frankein-meal. Check out the ingredients in a peaches and cream instant oatmeal: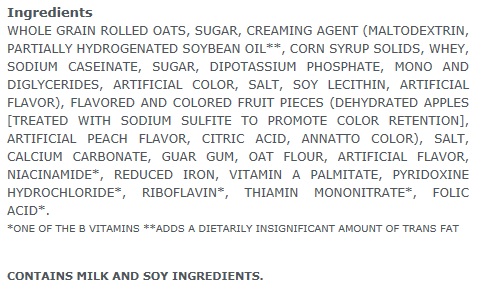 Seriously?
It has been years since I've had oatmeal so I can imagine there are others out there that miss oatmeal and would love to add a low carb and grain free version to their morning routines.  The good part about this Grain Free Instant Cinnamon "Oatmeal" recipe is that you can make up a batch at the beginning of the week so you have instant breakfast every morning…just add water and coconut milk (optional).  I store my leftover mix in an airtight container in the fridge.  I also like to add fruit to my prepared "oatmeal."  It's the perfect change from my usual meat and veggies.
Enjoy!
~Karen
P.S. You may have noticed this breakfast is egg free.  I do not eat eggs for breakfast because I don't tolerate eggs very well and I've never really been a fan of eggs (and yes I think eggs are a super food!).  Perhaps you love eggs, but maybe you are looking for something different to have for breakfast?  My ebook
"Awaken: 30+ Egg Free and Grain Free Breakfasts"
gives you great low carb and paleo friendly recipes to enjoy when you want something besides eggs or if you are allergic to eggs.
Instant Cinnamon "Oatmeal"
Ingredients
½ cup + 2 Tbsp chia seeds
½ cup + 2 Tbsp golden flax meal
½ cup + 2 Tbsp finely shredded unsweetened coconut
1 Tbsp + ¾ tsp ground cinnamon

For one serving of prepared "Oatmeal"

½ cup hot water
2 Tbsp unsweetened coconut milk
Sweetener to taste (I use Swerve or use honey for Paleo)
Instructions
Combine the chia seed, golden flax meal, unsweetened coconut, and cinnamon in an airtight container.
Scoop out ½ cup of "oatmeal" in a serving bowl and keep the rest stored in the airtight container.
Pour ½ cup of water over the "oatmeal" mixture and let sit for 3-5 minutes.
Add sweetener (to taste) and 2 Tbsp of cream into the bowl and stir to combine.
Top with fresh berries or toasted coconut
Notes
Net Carb Count*: Instant Cinnamon "Oatmeal": 2.76 net carbs (per prepared serving--yields 4 servings).
*Note carb counts are estimated based on the products I used. Check nutrition labels for accurate carb counts and gluten information.
https://holisticallyengineered.com/2013/05/instant-cinnamon-oatmeal-low-carb.html
Click Here to Pin It!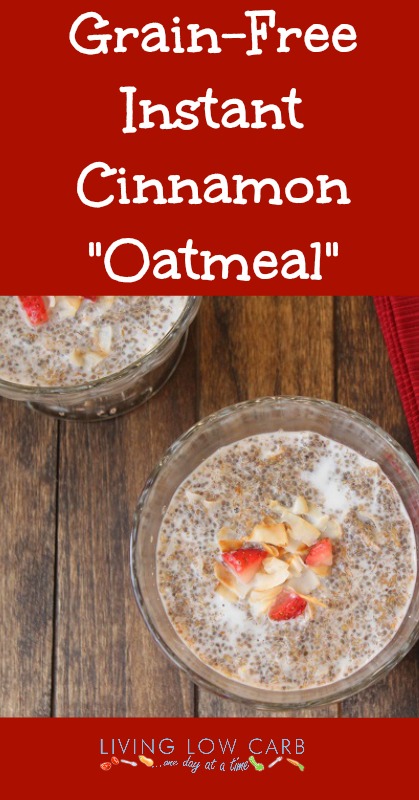 This content will be shown after all post