This content will be shown before all post
It wasn't long ago that I tried spaghetti squash for the first time and was learning how to make spaghetti squash.  I had heard that cutting it in half and roasting it was the best method.  I grabbed my trusty knife so I could try to cut it in half and attempted to cut through the skin of  the squash….whoa that thing was tough!  After several attempts and getting my knife stuck in the squash, I finally got it cut in half.  It definitely didn't look like the pretty, clean, even cuts in the pictures, but I got it open.  The problem was that the whole time I was terrified of cutting one of my fingers off.  That experience kind of kept we away from the spaghetti squash, but it's a versatile veggie so I knew I needed another method if I was going to be able to enjoy some "spaghetti" during the winter.
Click Here to Pin It!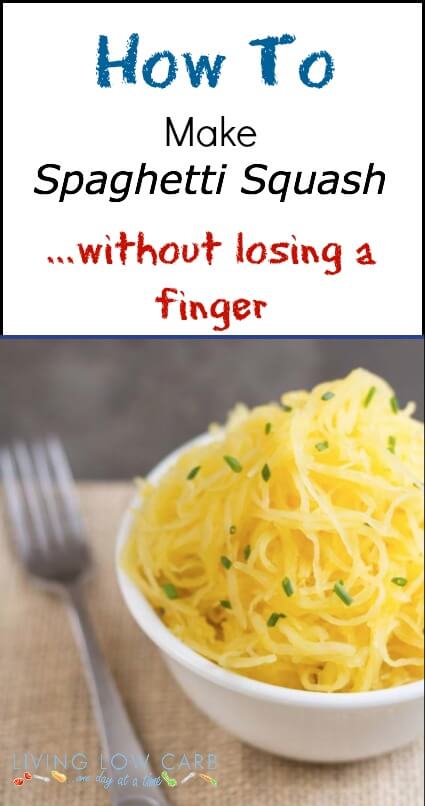 Tips for Not Losing a Finger While Making Spaghetti Squash
Roast it whole:  This is by far my favorite method, mostly because it's so easy.  I preheat the oven to 400 F, prick the the spaghetti squash with a fork, place it in a baking dish, and cook it for 1 hour and 15 minutes (flipping halfway through).  By the time I get back to the kitchen, the spaghetti squash is tender and I can allow it to cool slightly before cutting into it.  After cutting into it I remove the seeds and shred it in the "noodles" with a fork.  For a step by step tutorial with pictures check out my ebook "Awaken: 30+ Egg Free and Grain Free Breakfasts."  
Make it in the slow cooker:  Prick the spaghetti squash all over with a fork and place into the bowl of the slow cooker.  Add 1/2 cup of water and cook on LOW for 5-6 hours or until tender.  Then cut it in half, remove the seeds, and shred into "noodles."  For more recipes using spaghetti squash, check out my ebook "Squeaky Clean Paleo: 100+ Recipes to Ditch Craving and Beat Boredom."
Pre-Cook it:  I never mind the texture of cooking it whole first, but others prefer cutting it half to roast it.  Supposedly this makes the "noodles" more firm and better for using as "spaghetti." One great option it to pre-cook it, which will allow the skin to soften and make it easier to cut into the squash.  You can prick the squeak with a fork, roast at 400 F for about 15 minutes, cut it in half, remove the seeds, and add oil/butter, herbs and spices.  Then roast both halves for another 35-35 minutes or until the squash is tender.  Some people on the Living Low Carb…One Day at a Time Facebook page commented that they microwave it for 5-6 minutes to soften the squash in order to cut it for roasting, but others warned of the dangers of using a microwave.
Use an electric knife:  When I was talking about how I'm afraid to cut a spaghetti squash raw on the Living Low Carb..One Day at a Time Facebook page, several people commented that they use an electric knife with a serrated blade or other sturdy large knife (like a cleaver) to help them cut through it.  Personally, I will probably stay away from this method, but for others it works well.
Whatever you do…just BE CAREFUL and watch those fingers!
Recipes Using Spaghetti Squash
This content will be shown after all post