This content will be shown before all post
Summer in South Carolina is unbearably hot.  You'd think I would be used to it by now since I've been here my whole life, but no it never gets any easier.  I swear every summer is worse than the last.  The only way to survive is to arm yourself with refreshing frozen treats….and spend as much time as you can by the water.  The other day I popped some left over blueberries from my CSA in the freezer and noticed they make a great snack.  I decided to take it a step further and add some creamy coconut milk to turn it into a popsicle.  Since I am dairy free, I use full fat coconut milk all the time in recipes.  It works well in treats because it adds creaminess and just a hint of sweetness from the coconut.  The blueberries are a nice contrast with their slight tartness. Feel free to use your favorite berries or maybe a combination of berries in this recipe.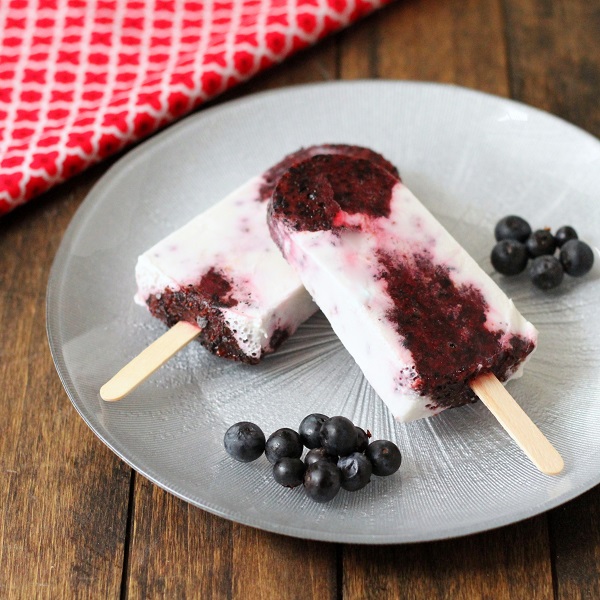 Blueberries and Cream Popsicles
Ingredients
Instructions
Blend the blueberries, sweetener, and lemon juice until puréed
Combine the coconut milk, sweetener, and vanilla extract in a separate bowl.
Spoon the blueberry mixture into Popsicle molds 1/3 full.
Pour the coconut milk over the blueberry mixture until the molds are 2/3 full.
Top the coconut milk with the remaining blueberry mixture so that the molds are full (if needed fill with the remaining coconut milk)
Freeze for about 6 hours or until set.
To unmold run the sides of the molds under running hot water for about 10 seconds or until the popsicle loosens and slides out
Notes
Net Carb Count*: Blueberries and Cream Popsicles: 8.07 net carbs for 1 popsicle (I made 5 popsicles)
Total Carb Count for 1 popsicle: 9.49 carbs (add additional carbs for the sweetener used)
*Note carb counts are estimated based on the products I used. Check nutrition labels for accurate carb counts and gluten information.
https://holisticallyengineered.com/2013/07/paleo-blueberries-cream-popsicles.html
The kitchen tool I used to make the Blueberries and Cream Popsicles
Click + Below:
This content will be shown after all post