This content will be shown before all post
One of my favorite things to do for dinner on a Sunday is to throw something in the slow cooker while I work on getting ready for the start of the workweek and the enjoy the last bit of my weekend.  A few weeks ago, I was going through my freezer and noticed a pork loin roast that I needed to use up.  Pork loin isn't something I normally make, but I figured it would be perfect in the slow cooker.   I ended up throwing in some onions because I knew it would add flavor to the roast and also make a delicious gravy to go with it.
Click Here to Pin It!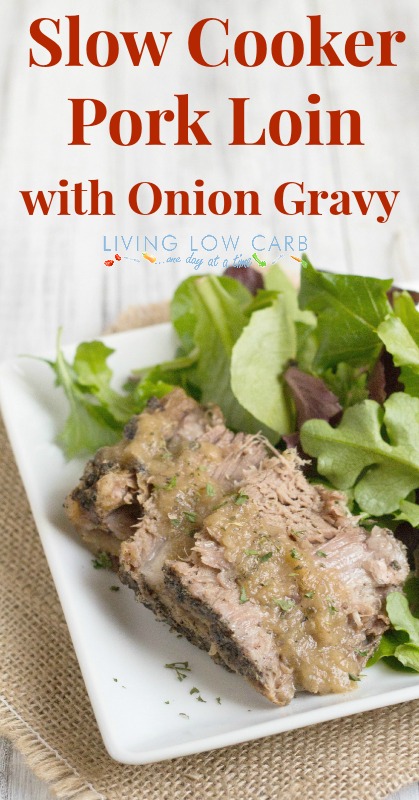 Slow Cooker Pork Loin Roast with Onion Gravy
Ingredients
4 lb bone-in pork loin roast
1 tbsp Celtic sea salt
2 tsp black pepper
4 garlic cloves, minced
2 medium onions
1/4 cup water
2 Tbsp coconut aminos
Instructions
In a small bowl, combine the sea salt, black pepper, and garlic.
Rub the pork roast on all sides with the mixture.
Slice the onions and place in the bottom of a slow cooker.
Add the water and coconut aminos.
Top with the roast and cover.
Cook on LOW for 4-6 hours or until cooked through.
Remove the roast and allow to rest before slicing.
Pour the liquid and onions into a blender and blend until smooth.
Serve the onion gravy over the sliced pork roast.
Notes
Net Carb Count*: 3.80 g net carbs (per serving serves 6 with 1/4 cup of onion gravy)
Total Carb Count: 5.37 g total carbs (per serving serves 6 with 1/4 cup of onion gravy)
*Note net carb count = Total carbs - fiber. Carb counts are estimated based on the products I used. Check nutrition labels for accurate carb counts and gluten information.
https://holisticallyengineered.com/2014/01/slow-cooker-pork-loin-onion-gravy.html
Click +1 Below:

This content will be shown after all post