This content will be shown before all post
Recently I've had an obsession with No Bake Cheesecake. It's so easy to make with a grain free crust and I even like to eat the filling without a crust.  Yum!  I've mentioned this before, but I am so ready for Spring to be in full effect with warmer weather, spring veggies, and lots of bright flavors.  One of my favorite flavors this time of year is lemon so naturally I had to pair it with cheesecake.  It's a lovely balance of sweet and sour and perfect for spring.
If you happen to have any extra lemon filling you can always use it for Lemon Meringue Cookies.  Another great Springtime dessert!
Click Here to Pin It!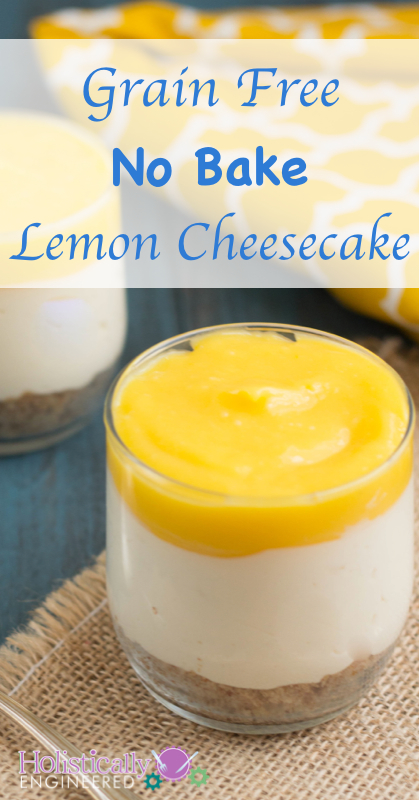 Grain Free No Bake Lemon Cheesecake
Ingredients
For the Crust

1 1/2 cups of mixed nuts (I used 1/2 cup each of almonds, pecans, and walnuts)
1-2 Tbsp granular sweetener or coconut sugar (sweeten to taste)
1/2 tsp cinnamon

For the Lemon Curd Layer

1/2 cup lemon juice
1/2 cup powdered sweetener (or 5 Tbsp honey for Primal)
2 large pastured eggs
2 large pastured egg yolks
6 Tbsp grassfed butter or ghee

For the Cheesecake Layer

8 oz. cream cheese, softened
1 1/2 cups heavy cream
1/4-1/2 cup powdered sweetener (sweeten to taste) or honey for Primal
1 1/2 tsp vanilla extract
Instructions
For the crust

In a high speed blender or food processor, blend the mixed nuts, sweetener, and cinnamon until finely ground and sticking together.
Place 1/4 cup of the nut mixture into the bottom of a small bowl or glass.
Repeat with 3 other bowls/glasses.

For the Lemon Curd Layer

In a medium saucepan, whisk together lemon juice, sweetener, eggs, and egg yolks.
Add the butter and place over a medium low heat.
Cook the mixture until the butter has melted stirring continuously.
Once the mixture has thicken, remove it from the heat and strain it through a fine mesh strainer into a medium bowl.
Place the a piece of plastic wrap directly over the curd and refrigerate until cooled (while you prepare the cheesecake layer).

For the cheesecake Layer

Beat the cream cheese with the sweetener on medium speed until smooth (about 2 minutes).
After scraping sides of the bowl, add the the cream and vanilla and whip (I used a whisk attachment on my mixer) on medium speed until light and fluffy (about 2 minutes).
Divid the mixture evenly among the four bowls/glasses.
Top with 2-4 Tbsp of the lemon layer. (You should also swirl the lemon into the cheesecake layer before adding to the bowls/glasses).
Serve immediate or refrigerate to completely set.
Notes
Total Carbs: 8.4 g (for 1 serving...plus the carbs for sweetener used)
Net Carbs: 5.6 g (for 1 serving...plus the carbs for sweetener used)
The recipe can be divided into 6 smaller servings to reduce the carb count.
https://holisticallyengineered.com/2014/04/grain-free-no-bake-lemon-cheesecake.html
Click +1 Below:
This content will be shown after all post