Marinated Flank Steak Recipe
Three weeks down and only 9 days left to go!  Wow this Whole30 (and January) is flying by!  Things having been going well on the Whole30. I'm feeling the same as I have the last few weeks, with more energy and feeling more focused.  I also haven't had any crazy cravings for sweets or almond butter (I'm also not eating nuts during the Whole30). 
I'll probably continue with the Whole30+ for more than 30 days.  I might as well continue with it since I feel so good.  I love to make my meals for the weeknights ahead of time. So when it's meal time I just have to reheat and serve.  It's so quick and then I don't have a ton of dishes to do after dinner.  Did I mention I'm not a fan of doing dishes?  🙂 This Marinated Flank Steak recipe really hits the spot, and I would totally make it not only for the Whole30 challenge, but for other special occasions, too.
P.S. Did you checkout the new digs?  What do you think?  I'd love to hear about it in the comments below.
Day 19 Meals:
Breakfast: Zucchini Boats
Lunch: Leftover Lamb Burgers on portabella mushroom buns
Dinner: Rosemary and Thyme Chicken Thighs with asparagus
 Day 20 Meals:
Breakfast: Zucchini Boats
Lunch:  Leftover Rosemary and Thyme Chicken Thighs with asparagus
Dinner:  Marinaded Flank Steak Salad (recipe below)
 Day 21 Meals:
Breakfast: Zucchini Boats
Lunch:  Leftover Marinaded Flank Steak Salad (recipe below)
Dinner:  Clean out the fridge night (aka a little bit of whatever was leftover for the week)
My meal plan for the week is the following (Breakfast will usually consist of leftovers or sausage with veggies and Lunch will definitely be leftovers):
| | |
| --- | --- |
| | |
| | |
| | |
| | |
| | Leftovers (I have class this night) |
| | |
| | |
| | |
| | Lamb Burgers on portabella mushroom buns |
| | |
| | |
| | |
| | Marinated Flank Steak salad (recipe below) |
| | |
| | |
Click Here to Pin It!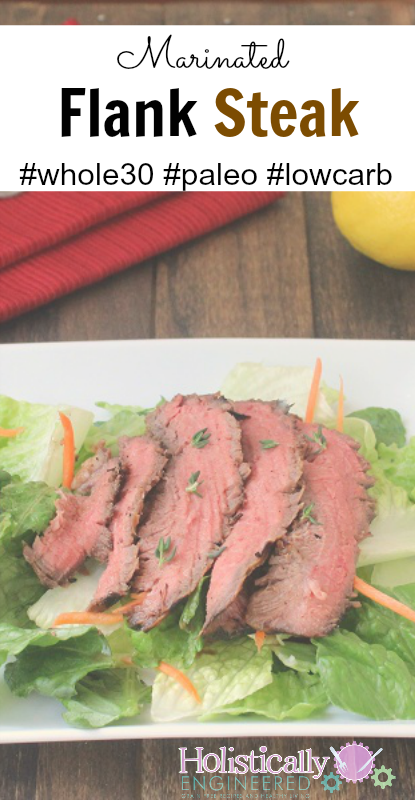 Ingredients
4 1/2 lbs flank steak
3/4 cup coconut aminos (a soy-free soy sauce substitute)
1/4 cup oil
2 Tbsp lemon juice
3 garlic cloves, minced
2 tsp black pepper
1/2 tsp dried ginger (or grate some fresh ginger)
Instructions
In a baking dish, combine all of the ingredients except for the flank steak.
Add the flank steak and turn it over to coat in the marinade.
Marinate for 8 hours.
After the flank steak is done marinating, heat 1-2 Tbsp of oil in a large skillet or grill pan, over medium high heat.
Sear for 4-5 minutes per side (for medium rare) or to preference.
Let the steak rest for 10 minutes before slicing.
Slice thin pieces at a diagonal and against the grain of the steak.
Serve over salad.
Notes
Net Carb Count*:
Marinated Flank Steak: 42 net carbs (for the entire recipe)
*Note carb counts are estimated based on the products I used. Check nutrition labels for accurate carb counts and gluten information.
http://holisticallyengineered.com/2013/01/whole30-marinated-flank-steak.html
DISCLAIMER: Not intended to diagnose, treat, or cure any disease. Always consult a doctor or authorize medical professional before changing your diet, medications, etc. PAID ENDORSEMENT DISCLOSURE: In order for me to support my blogging activities, I may receive monetary compensation or other types of remuneration for my endorsement, recommendation, testimonial and/or link to any products or services from this blog. Some links on this site are affiliate links, including Amazon.com affiliate links. If you purchase a product through an affiliate link, your costs will be the same but Holistically Engineered will receive a small commission. This helps cover some of the costs for this site. I appreciate your support!