This content will be shown before all post
I have now completed Day 28 of
Whole30
.  It was so great to be back in my kitchen after traveling and going out to eat.  I was glad to be home and to celebrate, I wanted to make a hearty dish so I could forget about all of those hotel/travel meals.
My meals for Day 28 were:
Breakfast: 
Chicken Sausage
with leftover roasted carrots and Dijon mushrooms
Lunch: Salad dressed with lemon juice and olive oil and topped with tuna
Snack:  Cucumbers and Carrots (dressed with olive oil and vinegar)
Dinner: Meatloaf (recipe below) with Turnip Greens and Zucchini with Mushrooms
Whole 30 Meatloaf Recipe
I used the following ingredients for Whole30 Meatloaf:
---
1 lb ground pork
1 lb ground beef
2/3 cup finely shredded carrots
2/3 cup finely shredded zucchini (place the zucchini in cheesecloth and squeeze out the excess water)
1 tsp dried basil
1 tsp dried rosemary
1 tsp garlic powder
1 tsp fennel seed (grinned into a powder)
2 tsp gelatin + 2 Tbsp warm water (or 2 eggs)
1 Tbsp Dijon mustard (check ingredients for nightshades)
---
Preheat the oven to 350 F.  In a large bowl, combine the carrots, zucchini, basil, rosemary, garlic powder, and fennel.  Add the mixture to the ground pork and beef and mix until evenly incorporated.  Mix the gelatin with the water and add to the meatloaf (or add the eggs) making sure it is evenly combined.  Place the meat mixture into a loaf pan and spread the Dijon mustard over the top.  Bake for 1 hour or until cooked through.
Served with Turnip Greens and Zucchini with Mushrooms.
Whole30
Meatloaf
: 15 net carbs (for the entire recipe)
*Note carb counts are estimated based on the products I used. Check nutrition labels for accurate carb counts.
Comments:  I have been staying away from eggs to see if I'm allergic so I had to make the meatloaf without them.  I read that gelatin would help bind the meatloaf together.  I have to admit I was worried that the meatloaf would end up with a weird texture, but it worked out really well.  Also, I did not cook my veggies before hand because they were finely shredded.  I did have to make sure the water was removed from the zucchini first before adding it to the meatloaf.  You may need to cook your veggies, if you use a larger sized shred.  Also, onion would be a good addition, but make sure you cook the onion (and let it cool) before adding it to the meat.  Almond flour would make a good substitute for breadcrumbs if you usually use them.  I normally top my meatloaf with ketchup, but since I am also staying away from
nightshade vegetables
I used Dijon mustard instead.  I really like the Dijon crust it created.
Click Here to Pin It!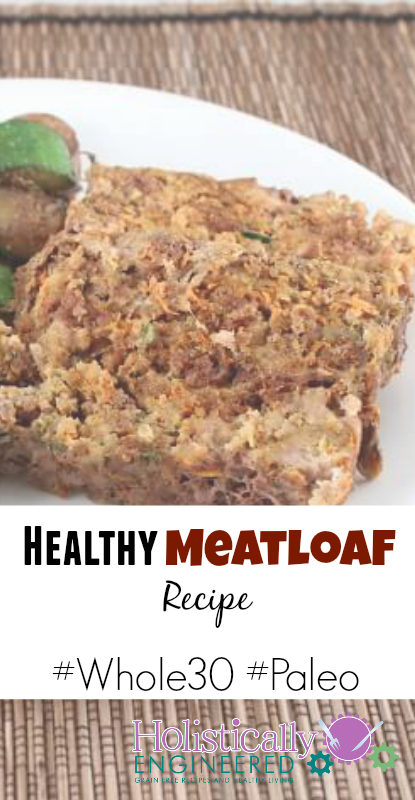 This content will be shown after all post