This content will be shown before all post
I was trying to think of some ideas to serve at parties during football season.  I ran across
Against All Grain
's post about party ideas and I really wanted to try making bacon meatball stacks. I just loved the idea! I don't have a copy of the Paleo Parent's book so I needed to come up with my own recipe.  A few months ago I made a 50/50 burger and it was delicious.  I figured I could turn it into meatball form pretty easily. Here's my tasty recipe for Bacon Meatballs:
Bacon Meatballs Recipe (paleo, gluten free, lowcarb):
---
Ingredients:
1 lb ground beef
4 slices of bacon
1/2 tsp garlic powder
1/2 tsp onion powder
1/4 tsp salt
1/2 tsp pepper
---
Directions:
Preheat oven to 375 F.
Place the bacon in a meat grinder or blender until the bacon is ground (almost like a paste).  Incorporate the bacon and all the spices into the ground beef, ensuring everything is evenly mixed.
Form the mixture into equal sized meatballs (I made about 25 meatballs).
Bake for 10-12 minutes or until the meatballs are cooked through (160 F).
Serve in a lettuce wrap or as a skewer with mustard, lettuce, and tomato.
Click Here to Pin It!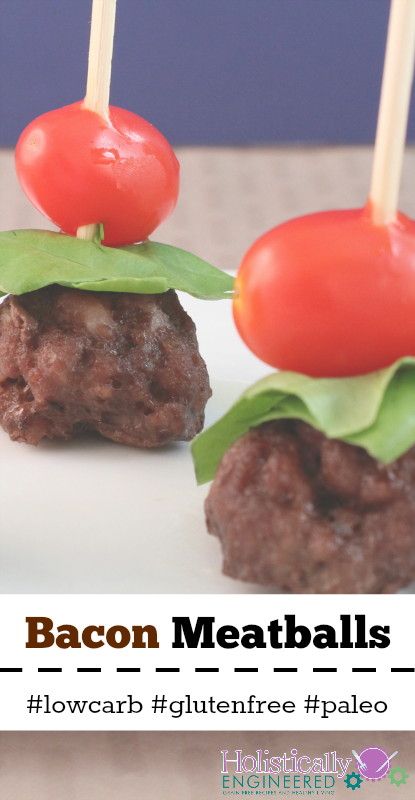 Low Carb Bacon Meatballs
:  4 net carbs (for the entire recipe of meatballs–add additional carbs for the "extras")
*Note carb counts are estimated based on the products I used. Check nutrition labels for accurate carb counts and gluten information.Comments: I will be making the bacon meatball stacks for my next party!  I ended up eating the meatballs for dinner and just made a lettuce wrap out of them.  The bacon adds so much flavor to the meatballs.  Bacon really does make everything better!Enjoy!~Karen 
This content will be shown after all post