This content will be shown before all post
Last week was a pretty stressful week for me because I was shopping around for a new car.  After work each evening I would head to the car dealership to test drive cars.  I eventually decided on a car and had to go through the process of working about a deal which took a few days. Needless to say, by the time I got home I was exhausted and hungry.  A few nights it was just too late to cook so we ended up going out to dinner.  But one of the nights, I had some chicken I needed to use up so I decided to throw together a lower carb version of Chicken Piccata.  Normally the chicken is lightly dusted in all purposed flour, but I knew I could skip this step and still have delicious chicken.  I also skipped the step of pounding out the chicken until it is thin.  As much as I needed to get my frustration out, I just didn't have time to mess with it.
Low Carb (and Paleo) Chicken Piccata Recipe:
---
Ingredients:
2 lbs boneless skinless chicken breast
1 1/2 cup chicken stock, divided
Juice of 3 lemons, divided
1 clove garlic, minced
3 Tbsp capers
---
Instructions:
Heat 1-2 Tbsp of oil in a large skillet over medium-high heat.  Season the chicken with salt, pepper, and garlic powder to taste.
Sear the chicken for 3-4 minutes per side.
Add 1 cup of the chicken stock (scrapping the browned bits off the bottom of the pan), juice of 2 lemons, and the garlic.
Reduce heat to medium, cover, and cook for 5-7 minutes or until the chicken is cooked through.
Add the remaining chicken stock, lemon juice, and the cappers.  Cook for 1-2 minutes.
Serve the sauce over the chicken.
---
Served with yellow squash and zucchini.
Low Carb Chicken Piccata
:  16 net carbs (for the entire recipe)
Click Here to Pin It!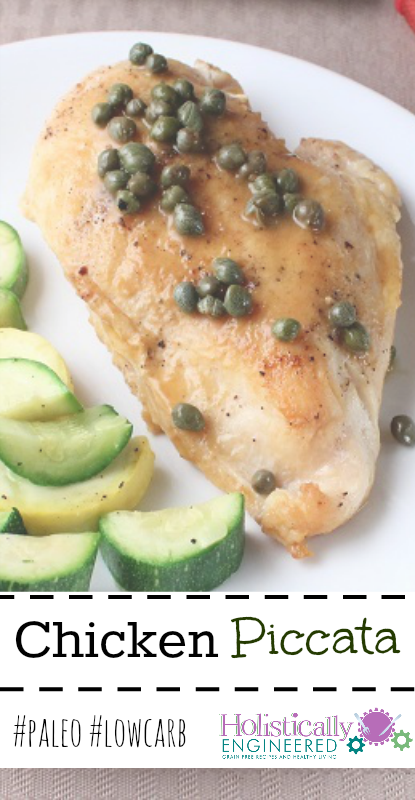 *Note carb counts are estimated based on the products I used. Check nutrition labels for accurate carb counts and gluten information.Comments: This was so easy to throw together and the meal was so much better than the nights we went out for dinner.  This will definitely become a regular meal in my house.  I just love the combination of tangy lemon juice and the touch of saltiness from the capers.Enjoy!
~Karen 
 
This content will be shown after all post