This content will be shown before all post
This Coconut Lime Chicken recipe is the perfect choice for a hot summer day, or when you miss summer a lot. The tart lime and salty coconut aminos combine to make this chicken recipe super tasty and brings a tropical taste to the dinner table.
Growing up my family always called me the "Chicken Queen."  Every time someone would ask me what I wanted to eat I would always say chicken.  So after years of eating a lot of chicken I'm always looking for new ways to make chicken.  I recently discovered a product called
coconut aminos
, which is a soy free version of soy sauce.  Every time I cook with it it's like something magical happens and the meat tastes absolutely delicious.  I first noticed it when I made my
Beef Short Ribs
and I've been using it regularly to see if it was a one-time thing.  The results are in and everything I have made with
coconut aminos
has been incredible.  I'm now a huge fan of
coconut aminos
and I prefer it over the very salty and strong flavor of soy sauce.
I used the following ingredients for Low Carb Coconut Lime Chicken:
4 boneless skinless chicken breast, cut into strips
1/4 cup coconut oil, melted
2 Tbsp
coconut aminos
(a soy sauce substitute)
Juice of 3 limes
3/4 tsp salt
1/2 tsp pepper
2 cloves garlic, minced
1/4 cup chicken stock
Combine the coconut oil, coconut aminos, lime juice, salt, pepper, and garlic.  Add the chicken to a dish or resealable plastic bag.  Add the marinade and toss to coat.  Marinate for 15 minutes.  Heat 1 Tbsp of oil in a large skillet over medium high heat.   Sear the chicken for 3-4 minutes per side.  Add the chicken stock, cover, and reduce the heat to medium.  Cook for another 4-5 minutes or until the chicken is cooked through. Serve the pan sauce over the chicken.
Served with roasted yellow squash and zucchini.
Low Carb Coconut Lime Chicken
:  16 net carbs (for the entire chicken recipe)
*Note carb counts are estimated based on the products I used. Check nutrition labels for accurate carb counts and gluten information.Comments: Note that if your chicken is too cold the coconut oil will start to return to its solid state.  Be sure to coat the chicken quickly before it hardens and the coconut oil will melt when it begins to heat up and cook.
Enjoy!
~Karen 
Click Here to Pin It!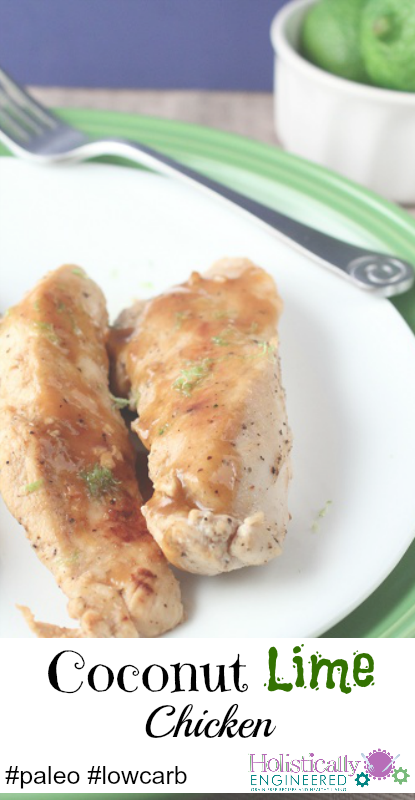 Products I used for this meal (click the images for more info or to purchase):

This content will be shown after all post