This content will be shown before all post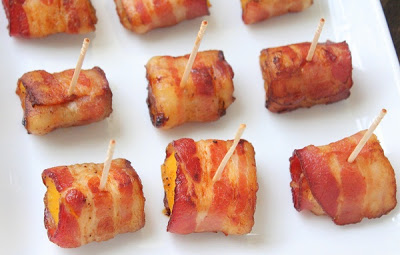 I've been posting a lot of recipes for sweets lately so I decided to make a great low carb appetizer.  My favorite vegetable this winter has been butternut squash.  It has been perfect in some of my favorites side dishes (here and here).  I decided to pair my favorite vegetable of the moment with bacon.  Bacon makes a good thing GREAT.  The crispy, salty bacon pairs perfectly with the sweet, creamy butternut squash.  This will definitely make a great appetizer for your next holiday gathering!
What low carb dishes have you made this holiday season?  I'd love to hear about it in the comments below. 🙂
Bacon Wrapped Butternut Squash Bites (Low Carb and Paleo)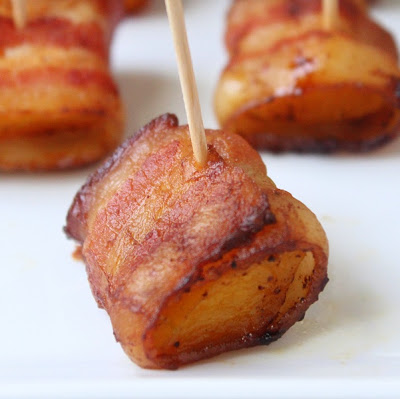 2 1/2 lbs butternut squash
15 slices of bacon
Olive oil
Chili powder
Garlic powder
Salt
PepperPreheat the oven to 350 F.  Peel and trim the butternut squash.  Cut the squash into 1″ cubes (discard the seeds and pulp–makes about 30 cubes).  Place the squash in a bowl and drizzle with oil and sprinkle with chili powder, garlic powder, salt, and pepper–to taste.  Toss to coat.  Cut the bacon in half, width wise.  Wrap half a bacon slice around one squash cube and place, seal side down on a foil lined baking sheet.  Repeat for the reminder of the squash cubes.  Bake for 20 minutes.  Flip the bites over (careful not to unwrap the bacon) and bake for another 20 minutes or until the squash is tender and the bacon is cooked through.  If you want to bacon crispier, broil it for the last 3-5 minutes of baking (keep an eye on it).*You could also use toothpicks to seal the bacon, if necessary
Bacon Wrapped Butternut Squash Bites
: 12 net carbs per serving (serves 10)
*Note carb counts are estimated based on the products I used. Check nutrition labels for accurate carb counts and gluten information.Adapted from
Food Renegade
 Enjoy!
Click +1 Below:
This content will be shown after all post