This content will be shown before all post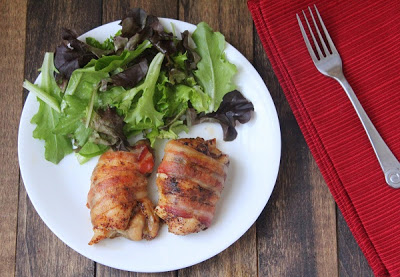 I decided to continue the bacon wrapped theme by making Bacon Wrapped Chicken Thighs.  These were so delicious and easy to make.  All you have to do it season the chicken, wrap it with bacon, and throw it in the oven.  The results are juicy and flavorful chicken.  Perfect for a weeknight dinner!  Use your favorite spices on the chicken and if you eat dairy it would probably be great with some cheese on it.
What do you like to make with bacon?  I'd love to hear about it in the comments below. 🙂 
Bacon Wrapped Chicken Thighs (Low Carb and Paleo)
8 pieces of boneless, skinless chicken thighs
8 pieces of bacon
1/2 Tbsp chili powder
1 tsp garlic powder
1 tsp salt
1 tsp black pepperPreheat the oven to 375 F.  Combine the spices in a small bowl.  Sprinkle the chicken thighs with half of the spice mixture on one side and rub it into the chicken.  Flip the chicken over and repeat with the remaining spice mixture.  Fold the chicken thighs in half and wrap one piece of bacon around each chicken thigh.  Place the chicken thighs bacon seam side down and bake for 30 minutes.  Broil the chicken for another 5-10 minutes or until the bacon is crispy and the chicken is cooked through (keep an eye on it).
Bacon Wrapped Chicken Thighs
: 6 net carbs (entire recipe)
*Note carb counts are estimated based on the products I used. Check nutrition labels for accurate carb counts and gluten information.
 Enjoy!
Click +1 Below:
This content will be shown after all post