This content will be shown before all post
[Updated 12-22-12]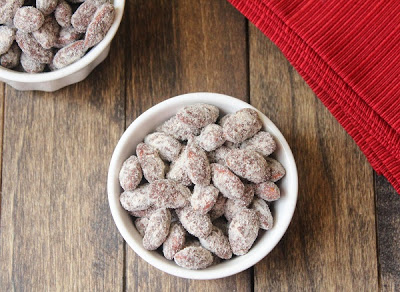 My latest cooking adventure is Low Carb "Puppy Chow" Almonds.  Puppy Chow was one of my favorite high carb desserts.  It is made with chocolate, peanut butter, Chex Mix, and powdered sugar.  I used to make it all the time around the holidays.  The Lean Green Bean had the wonderful idea of making Puppy Chow Almonds, but I wanted to lower the carbs.
What's your favorite holiday snack? I'd love to hear about it in the comments below. 🙂
3 cups roasted almonds
2 1/4 oz dark chocolate (6 squares of
85% Lindt chocolate
)*
2 Tbsp equivalent sweetener (I used
Confectioners Swerve
)*
1/4 cup almond butter (or any nut butter)
1 cup powdered sweetener (I used
Swerve
)
In a large sauce pan heat the chocolate, sweetener, and nut butter over medium low heat.  Once melted, add the almonds and stir to coat.  Place the almonds in a plastic storage bag and add the remaining powdered sugar substitute.  Shake the bag until the almonds are fully coated.   
*You could also use the following in place of the dark chocolate and sweetener: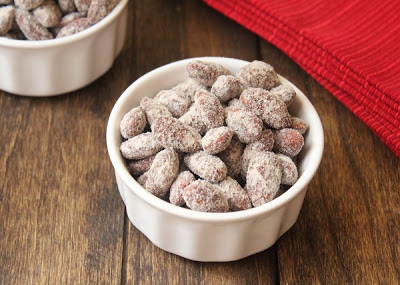 1/4 cup of coconut oil, melted
1/4 cup of cocoa powder
1/4 cup of powdered sugar substitute, to taste (I used Swerve Sweetener)
Net Carb Count*:
With dark chocolate: 4.5 net carbs per serving (serves 12)
With cocoa powder: 3.7 net carbs per serving (serves 12)
*Note carb counts are estimated based on the products I used. Check nutrition labels for accurate carb counts.
Click +1 Below:
This content will be shown after all post