This content will be shown before all post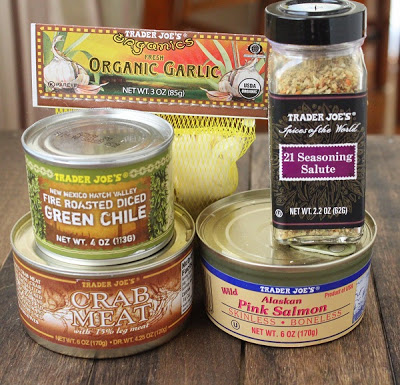 This month I participated in Paleo Pen Pals.  I had participated in a foodie pen pal group before, but I was looking for something a little more low carb/paleo friendly.  Luckily, Tarah from What I Gather and Brittanie from Three Diets One Dinner had the great idea of forming a Paleo Pen Pals exchange.  Basically each month you are paired up with another Paleo blogger or someone that follows the Paleo diet (you don't have to have a blog to participate, just a love of cooking healthy, delicious food) and you exchange a unique, paleo-friendly ingredient/local item that your partner can use to create a delicious Paleo recipe. If you are interested in joining the fun, you can sign up at the Paleo Pen Pals Facebook Page or by sending them an email at paleopenpals[at]gmail[dot]com.  My Pen Pal this month was Jessica over at Pensive Paleo and she sent me some great stuff! In my package was Crab Meat, Fire Roasted Diced Green Chile, Organic Garlic, Wild Alaskan Pink Salmon, and 21 Seasoning Salute. I couldn't wait to whip something up with those ingredients!  I decided to make Low Carb Crab Cakes.  
Crab Cakes (Low Carb and Paleo)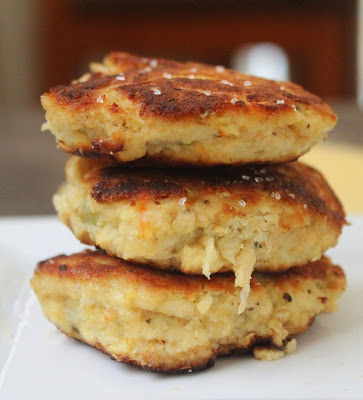 6 oz canned crab, drained
2 Tbsp diced green chiles
1 clove garlic minced
1/2 tsp Dijon mustard
1/2 tsp
21 Seasoning Salute 
1/4 tsp salt
1 egg
1 Tbsp coconut flour
Combine the crab, green chilies, garlic, Dijon mustard, and 21 Seasoning Salute.  Add the egg and stir to thoroughly combine.  Add the coconut flour until the desired consistency is reached.  Form into 5 even patties.
Heat 1-2 Tbsp of oil in a skillet over medium heat.  Sear the patties for 2-3 minutes per side or until golden brown.  Sprinkle with salt if desired. 
Crab Cakes:
5 net carbs (for entire recipe–makes 5 cakes)
*Note carb counts are estimated based on the products I used. Check nutrition labels for accurate carb counts and gluten information.
 Enjoy!
Products I used for this meal (click the image for more info or to purchase):
****Disclosure: Some of the links within in this post (and side bar) may be affiliate links.  I receive a small percentage from the respected affiliate programs for items purchased through the affiliate links.  I appreciate your support as this is helping for the cost of recipe development, graphic design, and for the publication of an ebook due out in February 2013.****
Click +1 Below:
This content will be shown after all post