This content will be shown before all post
Now that the hustle and bustle of Christmas is over I'm starting to prepare for New Years Eve.  I wanted some easy party foods that would be great to feed a crowd.  I remembered my Chicken Teriyaki Meatballs and how delicious they were so I decided to pair that sauce with chicken wings.  The crispy crunchy wings go perfectly with the sweet and savory teriyaki sauce.
Today is also my 1 year Blogiversary!  One year ago I decided to blog about the recipes I was making while following a low carb diet.  There have been so many ups and downs this last year, but I have loved every minute of being able to share my journey with you all.
What are your favorite low carb New Years Eve party foods?  I'd love to hear about it in the comments below. 🙂
Teriyaki Chicken Wings (Low Carb and Paleo):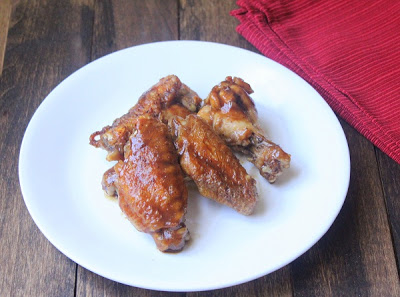 1 1/2 lb chicken drumettes/wings
2-3 Tbsp oil
Salt, to taste
Black pepper, to taste
6 Tbsp
coconut aminos
 (a soy free version of soy sauce)
2 Tbsp equivalent sweetener (I used 
Swerve
)
2 tsp ground ginger
1 tsp garlic powder
1/2 cup chicken broth

Set the oven broiler on high.  Toss the chicken wings in the oil, salt, and pepper (to taste).  Place the chicken skin side down onto a foil lined baking sheet.  Broil for 10 minutes and then flip the wings and broil for another 20-25 minutes or until golden brown and cooked through.
With about 10-15 minutes left of cooking time, combine the remaining ingredients in a sauce pan over medium high heat. Bring the mixture to a boil and allow to boil for 5-7 minutes (stirring occasionally) or until the mixture has reduced and thickened. Remove from heat.Once the wings have cooked place them in a large bowl and pour the sauce over the wings.  Toss to coat.Net Carb Count*:
Teriyaki Chicken Wings
:  21 net carbs (for the entire recipe
–yields about 10-11 wings)
*Note carb counts are estimated based on the products I used. Check nutrition labels for accurate carb counts and gluten information.
Products I used for this meal (click the image for more info or to purchase):
Click +1 Below:
This content will be shown after all post