This content will be shown before all post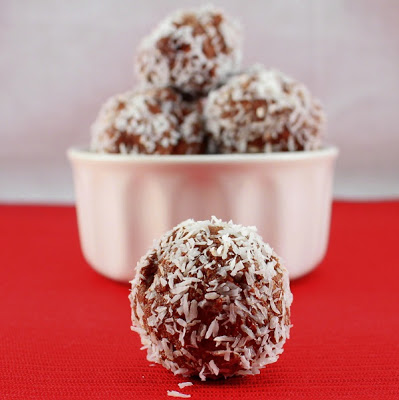 Are you ready for Christmas?  I just realized there is less than two weeks until Christmas and I haven't even started my shopping yet.  What was I thinking?!?! I've really been in the mood to make holiday treats lately.  Maybe next week I'll do some savory dishes.  There are just so many parties and gatherings so it's nice to know you can bring a low carb treat for all to enjoy.  Treats like these help me stay on track during the holiday season.  Just remember not to overindulge…even on low carb treats.  I hope you've been more organized that I have this holiday season and I hope you enjoy these truffles.
Do you have suggestions for reducing stress over the holiday season?  I'd love to hear about it in the comments below. 🙂
Low Carb Chocolate Almond Butter Truffles (Gluten and Dairy Free)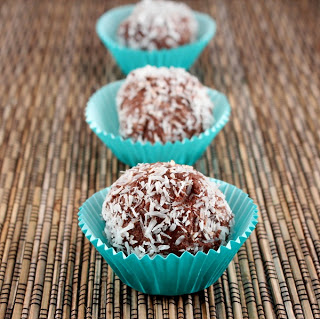 1 cup almond butter (or any nut butter)
1 1/2 oz (four squares) of dark chocolate (
I used Lindt 85%
)*
1/4 cup coconut oil
2 Tbsp cocoa powder
3/4-1 cup equivalent sweetener (powdered or liquid sweetener–
I used Swerve Confectioners
)
1/2 cup
finely shredded unsweetened coconut
(could use cocoa powder instead)Add the almond butter, chocolate, and coconut oil to a sauce pan over medium-low heat.  Slowly whisk in the cocoa powder until incorporated and the lumps are removed.  Next, add the sweetener and whisk to incorporate.  Cook until the chocolate has melted and the mixture is smooth. Pour the mixture in a dish and cover with plastic wrap.  Place in the refridgerator for 3 hours or until set (or throw it in the freezer to cut the time).
Scoop out about 1 Tbsp of the truffle mixture, form into a ball, and roll in the shredded coconut.  Repeat for the rest of the truffle mixture (makes about 20 truffles).  If the chocolate starts to melt while forming into balls place it back in the refrigerator. Place the finished truffles in the refrigerator (or freezer) for 30 minutes – 1 hour to set.
*The 85% Chocolate does not contain dairy, but is produced in a factory that handles dairy products.
Low Carb Chocolate Almond Butter Truffles
: 32 net carbs for the entire recipe (makes about 20 truffles)
*Note carb counts are estimated based on the products I used. Check nutrition labels for accurate carb counts and gluten information.
 Enjoy!
Products I used for this meal (click the image for more info or to purchase):
Use LOWCARB15 for 15% off your order!!!
****Disclosure: Some of the links within in this post (and side bar) may be affiliate links.  I receive a small percentage from the respected affiliate programs for items purchased through the affiliate links.  I appreciate your support as this is helping for the cost of recipe development, graphic design, and for the publication of an ebook due out in February 2013.****
Click +1 Below:
This content will be shown after all post