This content will be shown before all post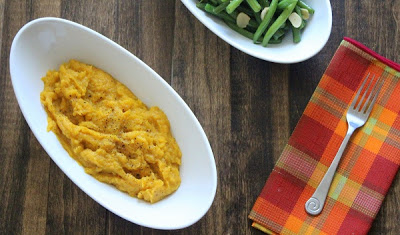 Since mashed potatoes are not an option during the holiday season I'm always looking for substitutes.  This year I tried butternut squash for the first time and I've been experimenting with using it in some of my low carb recipes.  One of my favorites was the Butternut Squash "Risotto".  I decided to add some roasted garlic to the butternut squash because everything is better when you add garlic to it.  This would be perfect to serve as a side dish at your holiday dinner.  You won't even miss the potatoes!
What's your favorite holiday side dish?  I'd love to hear about it in the comments below. 🙂
Roasted Garlic and Butternut Squash Mash (Low Carb and Paleo)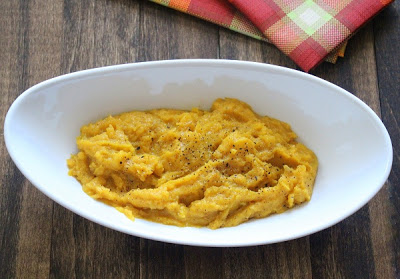 3 lbs butternut squash, trimmed and peeled
1 head roasted garlic
2 Tbsp oil of choice
salt and pepper, to taste
Preheat the oven to 400 F.  Scoop out the seeds of the butternut squash and cut into into 1″ pieces.   Place the squash on a parchment paper lined baking sheet.  Drizzle with oil and season with salt and pepper to taste.  Roast for 30-40 minutes or until tender (flip the squash halfway through).  Allow to cool slightly.
Add the cooled squash and roasted garlic cloves (method here) to the bowl of a blender.  Puree until smooth.  Season with salt and pepper to taste.  Optional:  You could also add your favorite potato toppings and add-ins.
Roasted Garlic and Butternut Squash Mash
:  14 net carbs (per serving—serves 8) 
*Note carb counts are estimated based on the products I used. Check nutrition labels for accurate carb counts and gluten information.
 Enjoy!
Click +1 Below:
This content will be shown after all post