This content will be shown before all post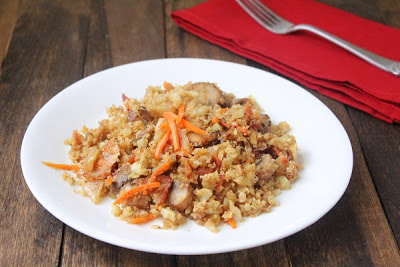 I've really been in the mood for Fried Rice lately, but since Chinese take-out is off limits I needed to use my favorite rice substitute.  Cauli-rice makes a wonderful replacement for rice because it takes on flavors really well. In the past, I've used cauli-rice to make Italian Wedding Soup, Low Carb Sushi, and Chicken, Broccoli, and Rice Casserole.  It had been awhile since I had made Fried "Rice" and I hadn't tried making it with coconut aminos so I knew I had to give it a try.  As expected, the coconut aminos was perfect and I even prefer it over using soy sauce.  You can make your Fried "Rice" with whatever vegetables you love and even an egg or two if you'd like.
What is your favorite way to use cauli-rice?  I'd love to hear about it in the comments below. 🙂
Fried "Rice" (Low Carb and Paleo):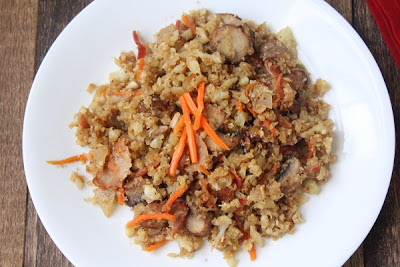 3 slices of bacon
1 medium head cauliflower, riced**
1/2 cup chopped onion
1/4 cup shredded carrots
4 oz sliced mushrooms
1 garlic glove, minced
1/2 tsp ground ginger
1/2 tsp salt
1/2 tsp pepper
2 Tbsp chicken broth
2 1/2 Tbsp
coconut aminos
 (a soy-free and gluten free soy sauce substitute)
In a large skillet, over medium-high heat, cook the bacon until cooked through and crispy.  Place the bacon on a plate lined with paper towel to drain.  Leaving the bacon renderings, add the onions and cook for 2-3 minutes.  Add the carrots, mushrooms, garlic, ginger, salt, and pepper.  Cook for another 5 minutes (stirring frequently) or until the veggies are tender.  Add the riced cauliflower and chicken broth.  Reduce the heat to medium and cover the skillet.  Cook for 5 minutes or until the cauli-rice is tender.  Add the coconut aminos and stir to combine.  Season with salt and pepper to taste.  Crumble the reserved bacon and add it to the pan off the heat.Serve with
Teriyaki Wings
or
Chicken Teriyaki Meatballs
.**To rice cauliflower, trim the leaves and core off the head of cauliflower.  Cut the cauliflower into florets and place them in the bowl of a food processor.  Pulse until the cauliflower is the size and shape of rice.
Net Carb Count*:
Fried "Rice"
: 30 net carbs (for the entire recipe
–serves 4-6)
*Note carb counts are estimated based on the products I used. Check nutrition labels for accurate carb counts and gluten information.
Products I used for this meal (click the image for more info or to purchase):
Click +1 Below:
This content will be shown after all post