This content will be shown before all post
Before low carb and paleo, one of our favorite things to eat for dessert in the summer was Chocolate Custard from Rita's Italian ice and custard shop.  Rita's is know for calling their treats "Happiness" since they are so lucuious and rich.  Well the other day when my fiance said he wanted to have some "Happiness" for dessert, I knew I needed to come up with a low carb and paleo friendly version.  I went to work in the kitchen and whipped up my first attempt of the Frozen Chocolate Custard and it received a rating of "Contentment."  That certainly wasn't going to work as a suitable replacement.  I went back to the drawing board and made some adjustments.  The next version received the title of "Happiness."  Success! Now we don't have to feel guilty about enjoying our favorite summertime dessert.
Frozen Chocolate Custard (Low Carb and Paleo Friendly)
Ingredients
Instructions
Add the gelatin to a medium size bowl and pour one can of coconut milk over it. Allow to sit for 2-3 mins or until gelled.
Place the egg yolks a mixing bowl.
Pour the other can of coconut milk into a sauce pan over medium-low heat. Add the gelatin mixture to the pan and whisk to combine.
Whisk in the cocoa powder and sweetener.
Heat the coconut milk in the sauce pan just until it starts to bubble.
Slowly add 1/4 cup of the hot coconut milk to the egg yolk mixture and continuously whisk to combine.
Add the remaining coconut milk, a little at a time, whisking to combine (don't add the hot coconut milk too quickly or you will end up with scrambled eggs).
Pour the mixture into the sauce pan and cook over low heat, stirring constantly.
Cook the mixture for 5-7 minutes or until thickened (it should coat the back of a spoon).
Once thickened, remove from the heat and add the vanilla extract.
Pour the mixture through a fine metal strainer over a bowl.
Allow the mixture to cool down and then cover with plastic wrap (I place it directly on the custard so that a skin doesn't form) and refrigerate for 2 hours or until cooled.
Add the mixture to the bowl of an ice cream maker and process according to the manufacturer's instructions.
Notes
Net Carb Count*: Frozen Chocolate Custard: 4.06 net carbs for one 1/2 cup serving (makes about 4 cups) *Note carb counts are estimated based on the products I used. Check nutrition labels for accurate carb counts and gluten information.
https://holisticallyengineered.com/2013/07/paleo-frozen-chocolate-custard.html
The kitchen tool I used to make the Frozen Chocolate Custard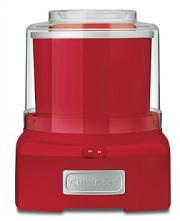 Click +1 Below:
This content will be shown after all post