This content will be shown before all post
This weekend will be in celebration of Labor Day which typically marks the end of summer.  There's no better way to enjoy summer's end then with some grilled burgers with a side of Bacon Vinaigrette Marinated Asparagus (recipe below).
To help celebrate Summer's End, Swerve is giving away a Weber Grill and some Swerve (enter below)!  Plus now through September 3rd, Swerve Sweetener is having a fabulous sale on their Granular Sweetener.  The 16 oz. bags are only $9.99 and if you order six bags the price drops to $8.33/pack (plus free shipping).  You definitely don't want to miss out on that deal!
Some of my favorite Swerve recipes are: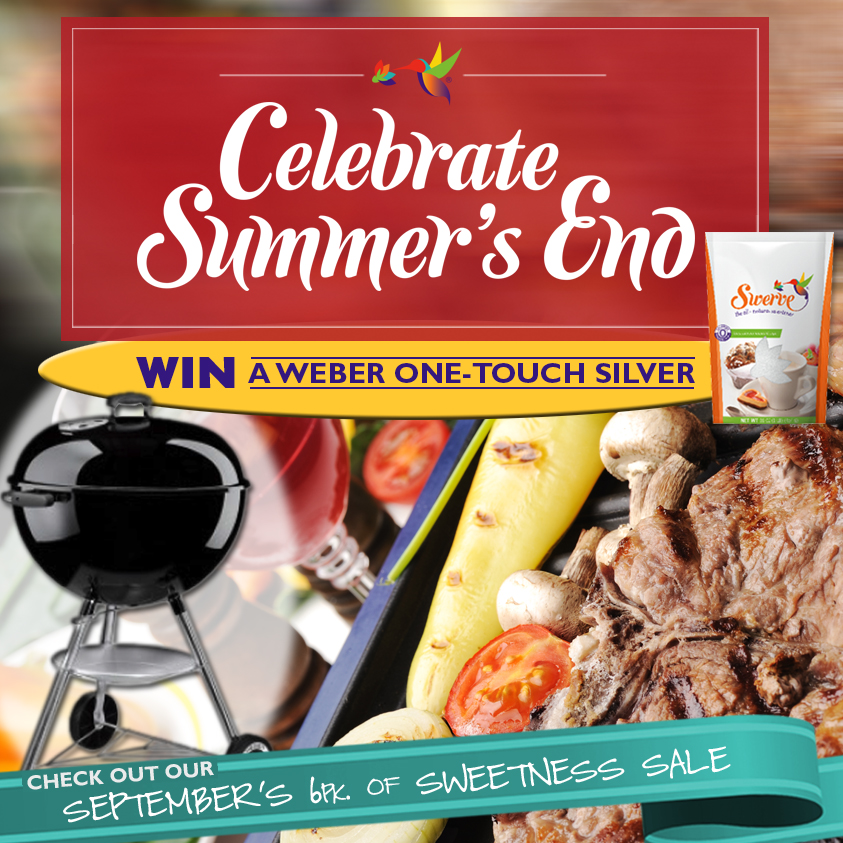 Don't forget to enter to win this great giveaway from Swerve Sweetener!  One lucky winner (open to U.S. residents only) will win a Weber 22.5″ Silver One-Touch, Kettle Grill and a Three Pack of Swerve Sweetener. Giveaway ends at midnight September 5th, 2013.
Bacon Vinaigrette Marinated Asparagus
Ingredients
1 lb organic asparagus, trimmed
2 pieces of pastured bacon
1 Tbsp Dijon mustard
1/2 Tbsp apple cider vinegar
Sweetener to taste (Start with 1 tsp...I used Swerve Sweetener)
Instructions
Fry the bacon until crisp and remove to drain, leaving the renderings.
Over medium low heat, add the Dijon mustard, apple cider vinegar, and sweetener. Whisk to combine.
Add the asparagus to a bowl and pour the marinade over the asparagus. Let marinate for 15-30 minutes.
Sear the asparagus over medium high heat on a grill or grill pan. Cook for 5-10 minutes (or until tender), turning to cook all sides.
Top with crumbled bacon before serving.
Notes
Net Carb Count*: 2.23 g net carbs (for 1 serving)--serves 4
Total Carb Count: 4.75 g total carbs (for 1 serving)--serves 4
*Note net carb count = Total carbs - fiber. Carb counts are estimated based on the products I used. Check nutrition labels for accurate carb counts and gluten information.
https://holisticallyengineered.com/2013/08/bacon-marinated-asparagus.html
This content will be shown after all post