This content will be shown before all post
Over the next few months I will be busy working on my next eCookbook, which is scheduled to be out in December 2013.  While I'm focused on the new cookbook I didn't want to leaving you without your fix of low carb and paleo recipes, so I reached out to some of my favorite bloggers to share some delicious recipes with the readers of Living Low Carb…One Day at a Time.  Today's guest post is a comforting Cheesy Focaccia Bread dish from Lauren of Mindful Mama.  Please head over to Mindful Mama and check out Lauren's blog and don't forget to follow Mindful Mama on Facebook and Pinterest.
Since trying many ways to make cauliflower crust, I have finally perfected the easiest way! I first used it in my Easiest Cauiflower Pizza EVER recipe. Here is where I discovered that you do not need to steam, nor squeeze out cauliflower to make this work. If you want any excess wetness to be squeezed out before you make this, please don't cook this, just grate the cauliflower and squeeze it out in a large kitchen towel. I do not find this step to be necessary at all, and I love how quick I can whip this up avoiding all those extra steps!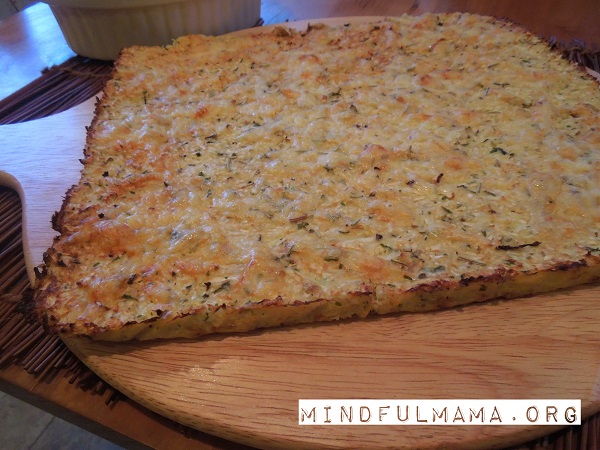 Cheesy Rosemary Focaccia Bread A Guest Post from Mindful Mama
Ingredients
1 medium head of cauliflower
1/2 cup romano/parmesan cheese
3/4 cup thick plain yogurt
2 eggs
1 cup cheddar cheese, divided
1 tsp basil
1 tsp oregano
1/2 tsp thyme
1 Tbsp rosemary
fresh pepper
1 tsp real salt
Instructions
Preheat oven to 400 F.
Using your food processor, put cauliflower through the grating attachment to make grated cauliflower.
Stir cauliflower along with the other ingredients into large bowl until combined.
Pat down onto two cookie sheet lined with parchment paper until evenly dispersed. If your cauliflower is small, you could use one cookie sheet.
Cook on for 45-55 minutes. The last 10 minutes of cooking sprinkle 1/2 cup cheddar cheese over the top of the 'bread'. (Make sure to cook it at least 45 minutes to cook out the water in the cauliflower).
Cut into squares, serve and enjoy!
Notes
Net Carb Count*: 31.59 g net carbs (for the whole loaf)
Total Carb Count: 49.19 g total carbs (for the whole loaf)
*Note net carb count = Total carbs - fiber. Carb counts are estimated based on the products I used. Check nutrition labels for accurate carb counts and gluten information.
https://holisticallyengineered.com/2013/10/cheesy-rosemary-focaccia-bread.html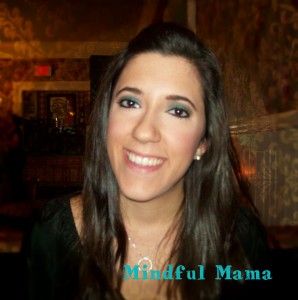 Lauren is emergency department RN, doula and soon to be nutritional therapy consultant. Her heart is to encourage mothers to greater mindfulness in their decisions related to their family's health. Her experience and growth in natural health has come primarily from blogging for Guava Health and from mothering her three beautiful young children. Growing up in an Italian family she is passionate about real food– that tastes delicious! Currently her family is following the GAPS diet in order to address digestive symptoms and other lingering health problems. She is truly in her niche when she has the opportunity to teach woman more of what it looks like to be a Mindful Mama.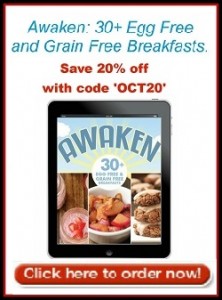 Click +1 Below:
This content will be shown after all post