This content will be shown before all post
Over the next few months I will be busy working on my next eCookbook, which is scheduled to be out in December 2013.  While I'm focused on the new cookbook I didn't want to leaving you without your fix of low carb and paleo recipes, so I reached out to some of my favorite bloggers to share some delicious recipes with the readers of Living Low Carb…One Day at a Time.  Today's guest post is a fun sausage stuffed acorn squash from Elaina of  The Rising Spoon.  Please head over to The Rising Spoon and check out Elaina's blog and don't forget to follow The Rising Spoon on Facebook and Twitter.
Every autumn when folks clamor over pumpkin and apple recipes, I laugh to myself and proceed to enjoy my favorite and much underappreciated fall bounty­­acorn squash. This beautiful orange and green winter squash is generally smaller than the popular butternut variety, easier to cut through and takes less time to bake. Another bonus? The interior is slightly larger, which makes it perfect for stuffing with aromatics, seasonings, proteins and vegetables. Trust me when I say having one of two of these around will help you make dinner in a pinch. You can fill it with a myriad of pantry, fridge or freezer staples. So far I've tried four variations, all with happy results. And when it seems like everyone around you is gobbling up carb­heavy cool weather dishes, stuffed acorn squash provides a light, yet filling respite.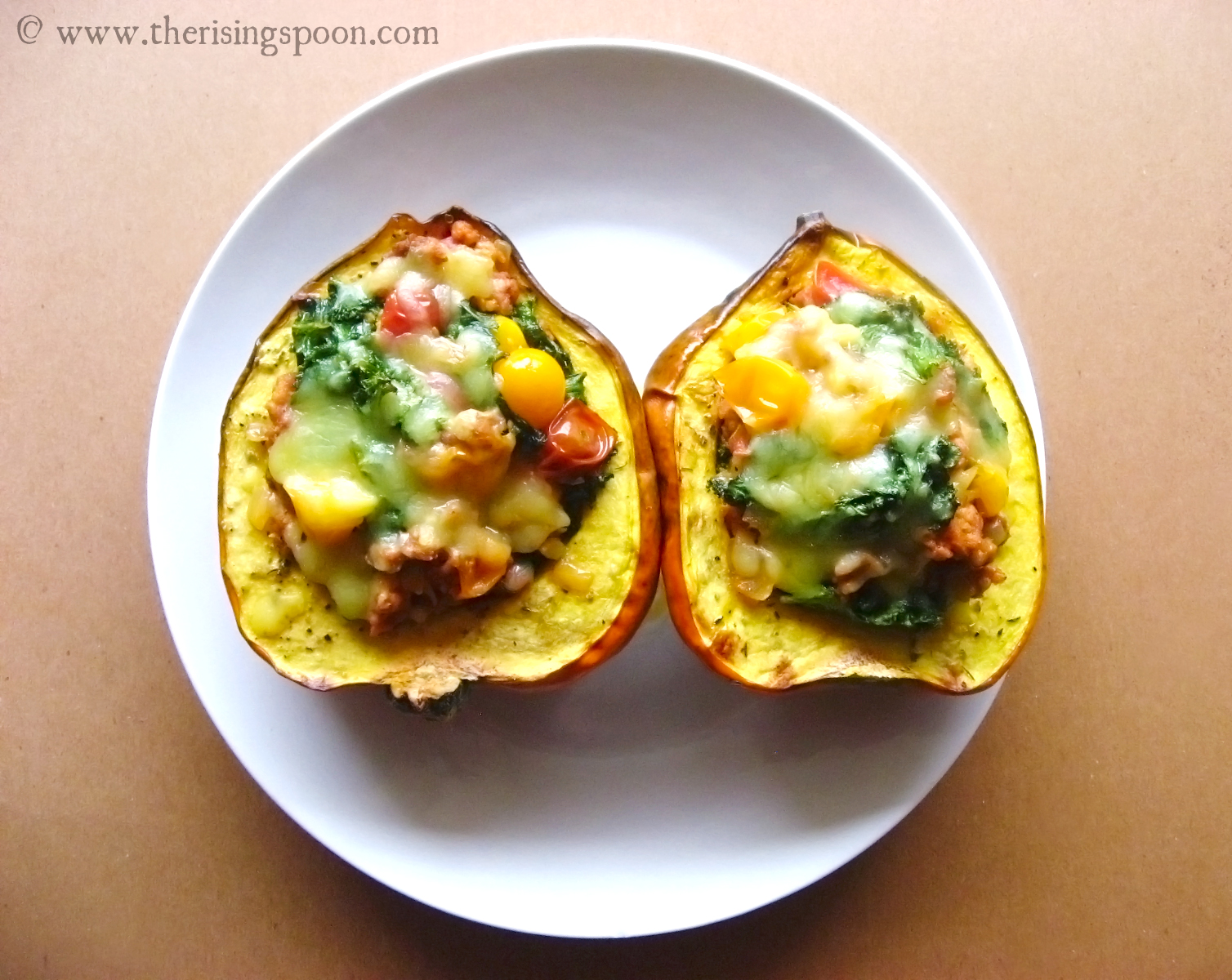 Sausage Stuffed Acorn Squash
Ingredients
For the squash:

1 acorn squash, halved and seeds removed
1/2 tsp extra virgin oil
1/4 tsp Italian seasoning or Herbs de Provence
Sea salt & cracked black pepper, to taste
2 teaspoons of purified water

For the filling:

1 1/2 Tbsp extra virgin olive oil
1/2 a yellow or sweet onion, diced
2 cloves of fresh garlic, minced
1 cup of heirloom cherry tomatoes, halved
1/2 a bundle of kale, stems removed
1/2 lb of ground Italian pork sausage
Sea salt & cracked black pepper, to taste
1/8 cup of shredded full­ fat mozzarella cheese
Instructions
Slice the squash in half and scoop out the insides (seeds & guts).
Line a roasting pan with foil and place each half cut side on on the tray.
Rub the squash lightly with olive oil.
Sprinkle the rims with the Italian seasoning, sea salt and black pepper.
Pour a teaspoon of water into the middle of each squash half.
Bake for 35­-45 minutes (adding more water to the squash if necessary) or until the squash is fork tender. If the squash becomes too dark, cover it with foil.
Heat up the additional olive oil on medium heat in a skillet.
Dice the onion and let that cook for 5-­7 minutes.
Mince the garlic and halve the tomatoes.
Add the ground sausage to the skillet, breaking it up into smaller pieces.
Cook the sausage all the way through and then add the garlic and tomatoes.
Cook for another 5 minutes or so.
Meanwhile, wash the kale and remove the woody stems. Tear the leaves into smaller pieces and add to the pan. Stir occasionally to wilt.
Season the filling to taste with sea salt and fresh cracked pepper.
When the squash is cooked through, divide the filling amongst both halves and top with the shredded mozzarella cheese.
Stick back in the oven for 3­-5 minutes to melt and serve immediately.
If fresh tomatoes aren't available (or in season), substitute canned or frozen fire-­roasted diced tomatoes with the juices drained.
Feel free to substitute whatever greens or cheese you have on hand. This recipe is very flexible.
Notes
Net Carb Count*: 30.62 g net carbs (per serving - serves 2)
Total Carb Count: 36.12 g total carbs (per serving - serves 2)
*Note net carb count = Total carbs – fiber. Carb counts are estimated based on the products I used. Check nutrition labels for accurate carb counts and gluten information.
https://holisticallyengineered.com/2013/10/stuffed-acorn-squash.html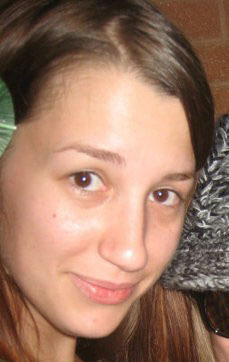 Elaina is a freelance writer and creator of the real food blog, The Rising Spoon. She is a self-taught cook and passionate about spreading basic cooking skills and information about real foods to the general populace. In her spare time she enjoys reading, crafting and playing video games. To stay up to date on recipes, posts and reviews, sign up for her newletter and RSS at www.therisingspoon.com or follow her via Facebook and Twitter.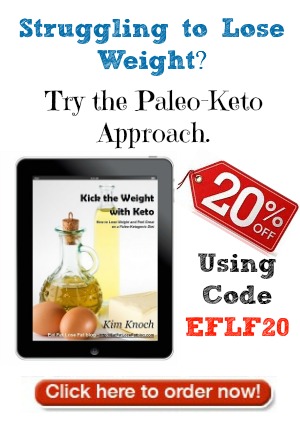 Click +1 Below:
This content will be shown after all post