This content will be shown before all post
Making meringue cookies only requires a handful of ingredients and they're really easy to make.  The great thing about meringue cookies is that they look really fancy. It almost looks  like it took a lot of effort to make.  These Chocolate Dipped Chocolate Meringue cookies will definitely impress your guests this holiday season.
You can either choose to dip just the bottom of the cookies or dip half of the cookies.  I ending up doing a mixture of both for my cookies.
Click Here to Pin It!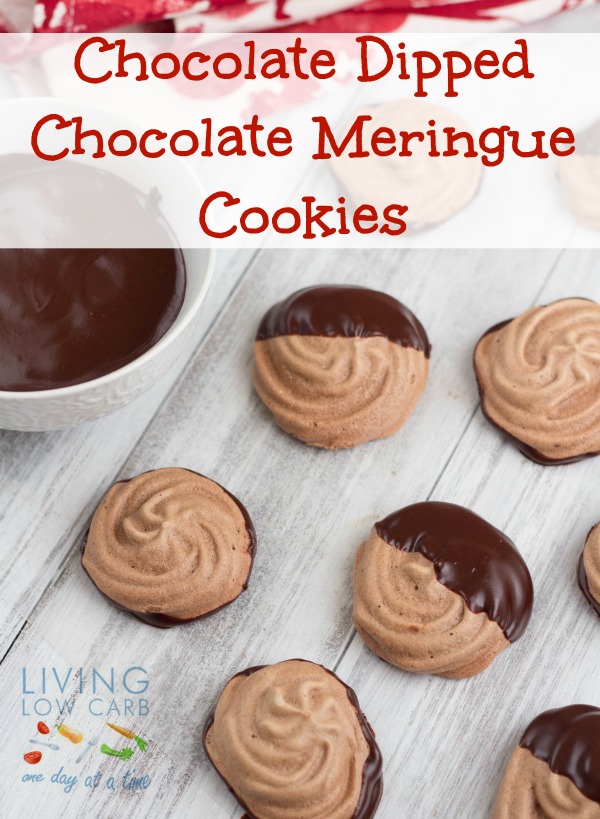 Chocolate Dipped Chocolate Meringue Cookies
Ingredients
For the meringue:

4 large pastured egg whites
1/4 tsp cream of tarter
1/2 cup powdered sweetener (or 5 Tbsp honey for Paleo)
2 Tbsp unsweetened cocoa powder
1/2 tsp pure vanilla extract

For the chocolate coating:

3.5 oz dark chocolate (dairy free and soy free chocolate for Paleo)
1 1/2 Tbsp grassfed butter or ghee
Instructions
Preheat the oven to 200 degrees F.
Line 2 baking sheets with parchment paper. In a large mixing bowl, beat the egg whites and cream of tarter on medium speed.
Add the sweetener and cocoa powder. Increase the speed to high until the egg whites form very stiff peaks. Add the vanilla and mix to incorporate.
With a large star shaped pastry tip, pipe a 2" disc on to the parchment paper and pipe another layer on top to form a small peak. Repeat with the remaining meringue batter. (Makes about 26 cookies)
Bake for 1 hour and 20 minutes and turn off the oven and let sit for 3 hours or until the meringues have dried out.

For the chocolate coating:

Melt the chocolate and butter in a double boiler.
Dip the meringue cookie into the chocolate (either just the bottom or half of the cookie) and set on parchment paper. Refrigerate until the chocolate has set.
Notes
Net Carb Count*: 0.94 g net carbs (per serving - 1 cookie--makes about 26 cookies)
Total Carb Count: 2.43 g total carbs (per serving - 1 cookie--makes about 26 cookies). Plus the carbs for the sweetener.
*Note net carb count = Total carbs – fiber. Carb counts are estimated based on the products I used. Check nutrition labels for accurate carb counts and gluten information.
https://holisticallyengineered.com/2013/12/chocolate-dipped-meringue-cookies.html
Click +1 Below:
This content will be shown after all post