This content will be shown before all post
I'm continuing my St. Patrick's Day celebrations with some Grain Free Irish Soda Bread Biscuits.  As a kid I remember helping my mom make Irish Soda Bread every year for St. Patrick's Day.  It was a recipe passed down to her and I loved to help make it…even if I didn't like the taste of it.  Yep, it's true…as a kid I didn't like eating Irish Soda Bread…probably because it wasn't sweet enough.  As my tastes changed, I eventually learned to love it, but since I don't eat grains anymore I needed a grain free Irish Soda Bread version.  I ended up coming up with the recipe below.  I also remember, spreading butter on the warm Irish Soda Bread.  It was always butter…never margarine.  At least we got one thing right!
The carb count is a little high on this recipe because of the raisins, but for me Irish Soda Bread only happens once a year so I don't stress over it.  If the carb count is too high for you blueberries, chopped strawberries, or even dark chocolate should work instead.
Click Here to Pin It!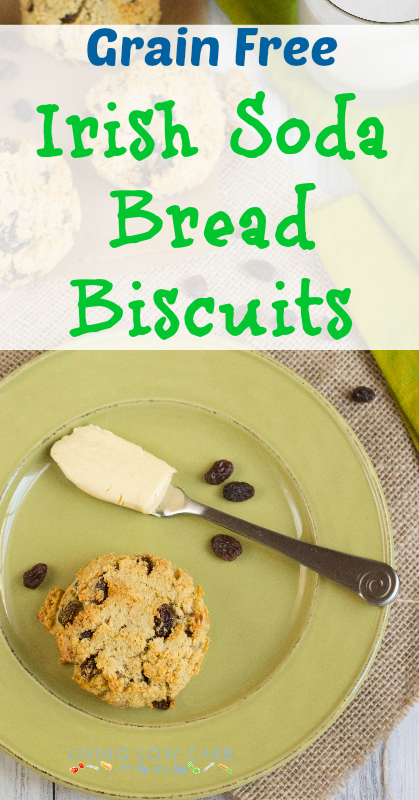 Grain Free Irish Soda Bread
Ingredients
Instructions
Mix the almond flour, baking soda, powdered sweetener (if using) and raisins in a medium bowl.
In a separate bowl, whisk the eggs, coconut milk, lemon juice, and honey (if using).
Add the wet ingredients to the dry and stir till combined.
Using an ice cream scoop, scoop onto parchment paper (makes 9 biscuits).
Bake at 350 for 20-23 minutes or until golden brown.
Allow to cool and serve with grassfed butter or ghee.
Notes
Total Carb Count: 15.6 g for 1 biscuit (with the raisins plus the carbs for the sweetener--8.5 g of carbs without the raisins)
Net Carb Count: 10.96 g for 1 biscuit (with raisins plus the carbs for the sweetener used--4.3 g of carbs without the raisins)
*Note carb counts are estimated based on the products I used. Check nutrition labels for accurate carb counts and gluten information.
https://holisticallyengineered.com/2014/02/grain-free-irish-soda-bread.html
Click +1 Below:
This content will be shown after all post