This content will be shown before all post
As the end of February quickly approaches that means St. Patrick's Day is right around the corner.  Since I'm part Irish, St. Patrick's Day has always been a big deal and a great time for my family to celebrate our Irish heritage.  What better way to celebrate than with a festive, naturally green, Dairy Free Shamrock Shake!  The homemade version is easy to make and is a great way to celebrate St. Patrick's Day….no need for weird ingredients, additives, preservatives, or lots of sugar.
If you aren't dairy free, heavy cream can also be used in place of the coconut milk.  And don't be afraid of the avocado it adds creaminess and green color without making the shake taste like avocado.
Click Here to Pin It!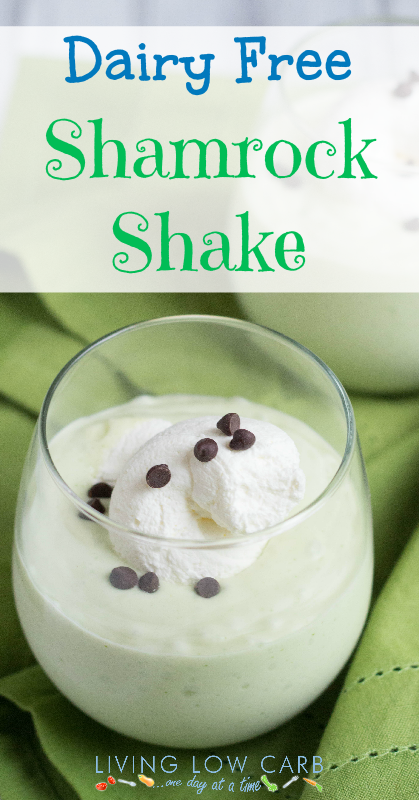 Dairy Free Shamrock Shake
Ingredients
1 1/2 cup coconut milk (full fat)
1/3 cup lite coconut milk (or watered down coconut milk)
1 ripe avocado
Handful of baby spinach (optional)
2-3 Tbsp honey for Paleo or 1/2 cup powdered sweetener for low carb
1 1/2 tsp mint extract
1/2 tsp pure vanilla extract
16 ice cubes
Instructions
Place the ingredients in a high speed blender and blend until smooth.
Pour evenly into 4 glasses and serve with whipped coconut cream.
Notes
Total Carb Count: 10.1 g (plus the carbs for the sweetener used)
Net Carb Count: 4.8 g (plus the carbs for the sweetener used)
*Note carb counts are estimated based on the products I used. Check nutrition labels for accurate carb counts and gluten information.
https://holisticallyengineered.com/2014/02/dairy-free-shamrock-shake.html
Click +1 Below:
This content will be shown after all post