This content will be shown before all post
This time of year is the season of Girl Scout cookies and probably over indulging in those cookies.  It's so easy to overeat them.  The good news is that you can support your local Girl Scouts without giving into the temptation of eating the cookies.  Wouldn't you love a grain free thin mint? Next time you're craving the cookies or approached to buy some give a donation instead and then go home and whip up a batch of these Thin Mint Mini Cupcakes.  These cupcakes have all the flavors of the classic cookie and they are made with delicious wholesome, real food ingredients. No gluten or grains to worry about!
Click Here to Pin It!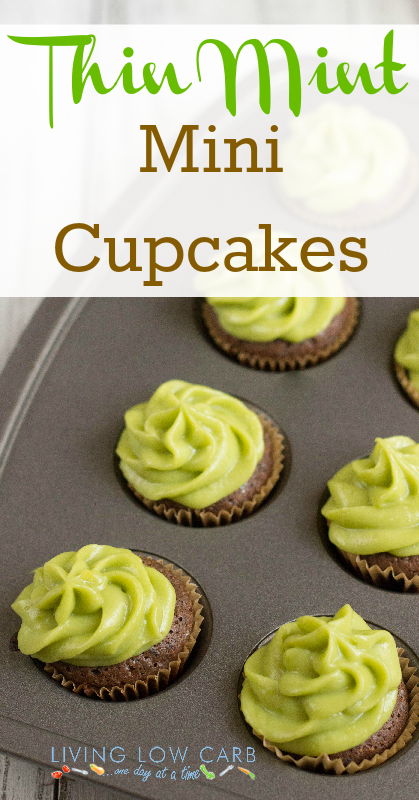 Grain Free Thin Mint Mini Cupcakes
Ingredients
Instructions
Preheat oven to 350 F
Combine the coconut flour, cocoa powder, sweetener (if granular), baking soda, and sea salt.
In a separate bowl, combine the eggs, coconut oil, and lemon juice (and honey if using).
Add the dry ingredients to the wet and mix to combine.
Line a mini muffin tin with 24 cupcake liners.
Fill cupcake liners evenly with the batter and bake for 13-15 minutes or until cooked through.
Allow to cool before topping with the icing.
Pipe on the frosting (directions below) onto each cupcake and serve.

For the frosting

Place the meat of the avocados in a blender and mix until completely smooth.
Add the sweetener, coconut milk, and mint extract. Mix until thoroughly incorporated.
Notes
Total Carb Count: 3.1 g (for 1 mini cupcake plus the carbs for the sweetener used)
Net Carb Count: 1.2 g net carbs (for 1 mini cupcake plus the carbs for the sweetener used)
*Note carb counts are estimated based on the products I used. Check nutrition labels for accurate carb counts and gluten information.
https://holisticallyengineered.com/2014/03/grain-free-thin-mint.html
Click +1 Below:
This content will be shown after all post