This content will be shown before all post
Normally I try not to eat dairy because even though my tolerance of dairy had greatly improved since I went grain free and dairy free, I still don't think I have completely healed.  I have to admit though….occasionally I still eat some dairy.  Butter definitely tops the list, but sometimes it's the occasional cheese or cream.  It's probably setting back my healing a bit, but what can I say…I'm human.  I try to get the best quality from grass fed cows, but I still enjoy things like this Grain Free No Bake Cheesecake.  It's so easy to make!  You can even enjoy it by the spoonful or with some berries on top.
Click Here to Pin It!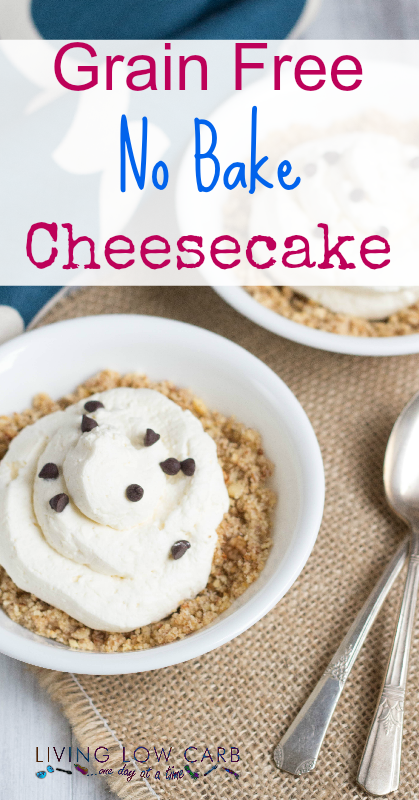 Grain Free No Bake Individual Cheesecakes
Ingredients
For the Crust

1 1/2 cups of mixed nuts (I used 1/2 cup each of almonds, pecans, and walnuts)
1-2 Tbsp granular sweetener or coconut sugar (sweeten to taste)
1/2 tsp cinnamon

For the Cheesecake

8 oz. cream cheese, softened
1 1/2 cups heavy cream
1/4-1/2 cup powdered sweetener (sweeten to taste) or honey for Primal
1 1/2 tsp vanilla extract
Instructions
For the crust

In a high speed blender or food processor, blend the mixed nuts, sweetener, and cinnamon until finely ground and sticking together.
Place 1/4 cup of the nut mixture into the bottom of a small bowl or glass.
Repeat with 3 other bowls/glasses.

For the cheesecake

Beat the cream cheese with the sweetener on medium speed until smooth (about 2 minutes).
After scraping sides of the bowl, add the the cream and vanilla and whip (I used a whisk attachment on my mixer) on medium speed until light and fluffy (about 2 minutes).
Divide the mixture evenly among the four bowls/glasses.
Serve immediately or refrigerate to completely set.
Notes
Total Carb Count: 8.2 g (for one serving plus the carbs for the sweetener used)
Net Carb Count: 4.2 g net carbs (for one serving plus the carbs for the sweetener used)
*Note carb counts are estimated based on the products I used. Check nutrition labels for accurate carb counts and gluten information.
https://holisticallyengineered.com/2014/03/grain-free-bake-individual-cheesecakes.html
Click +1 Below:
This content will be shown after all post