This content will be shown before all post
Wow, this week is flying by for me.  I just got back on Sunday from Paleo f(x) in Austin, TX  (there is a post coming on that soon) and this Saturday I leave for a work trip out of the country.  What a whirlwind! Before I left for Paleo f(x) I decided to turn the classic flavors of Buckeye Balls (aka peanut butter and chocolate balls) and turn it into a cookie.  Instead of peanut butter I used Almond Butter to keep it paleo, but the combination of almond butter and chocolate is just as good.  You'll love it, but feel free to use your favorite nut butter.
P.S. Happy Birthday to my twin brothers, Kevin and Kenny!  I'll have to make more of these cookies for their birthday.
Click Here to Pin It!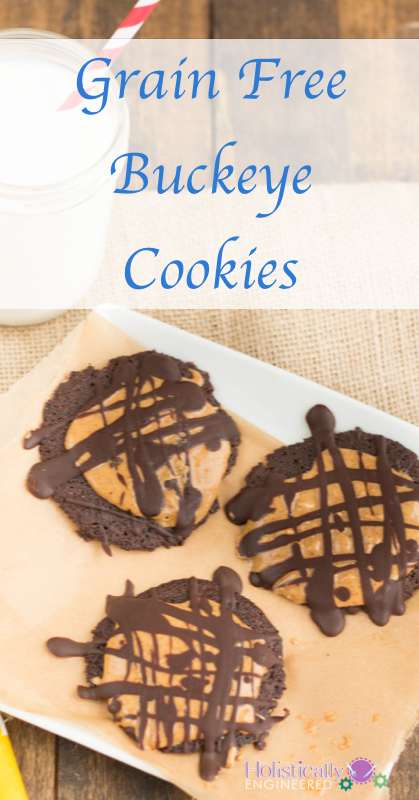 Grain Free Buckeye Cookies
Ingredients
Instructions
Preheat oven to 350 F.
In a medium bowl, combine the coconut flour, cocoa powder, baking soda, and salt.
In a separate mixing bowl on medium speed, mix together the coconut oil and sweetener of choice.
Add the eggs and mix to thoroughly incorporate.
Add the vanilla and lemon juice and mix to combine.
Add the dry ingredients and mix to incorporate.
Using a small cookie scoop, scoop out the cookies onto a parchment paper lined baking sheet(s) leaving enough space between each cookie. (I did 8 cookies per pan--it makes 16 cookies).
Bake for 9-10 minutes.
Remove from the oven and let cool before frosting.

For the topping

Metled the chocolate and coconut oil in a double boiler and whisk until smooth.
Spread about about 2 tsp of almond butter on each cookie and drizzle with the melted chocolate.
Notes
Total Carbs: 4.95 g (for 1 cookie plus carbs for sweetener used)
Net Carbs: 1.8 g (for 1 cookie plus carbs for sweetener used)
https://holisticallyengineered.com/2014/04/grain-free-buckeye-cookies.html
This content will be shown after all post