This content will be shown before all post
I have to admit that I'm so ready for warm weather and the bright flavors of Springtime food.  I was so excited to see asparagus and strawberries in my CSA (Community Supported Agriculture) veggies this week.  Spring is here in S.C….the weather was even warm!  So, inspired by fresh flavors I ended up making this Paleo Greek Chicken.  It was so easy!
The marinade is actually the Greek Salad Dressing from my ebook, Squeaky Clean Paleo: 100+ Recipes to Beat Boredom and Ditch Cravings (check it out here).  It makes a really easy dressing for salads, but as I found out it makes a delicious marinade for chicken and other meats.  It was a great way to celebrate the start of Spring!
Click Here to Pin It!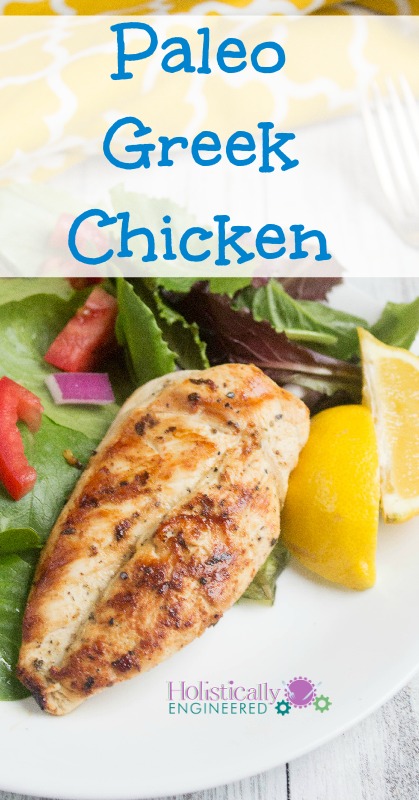 Ingredients
1 lb. boneless skinless chicken breast
1/2 cup extra virgin olive oil (or coconut oil if desired)
Juice 1 lemon
2 tbsp red wine vinegar
2 cloves garlic, grated
1/2 tsp dried oregano
1/2 tsp sea salt
1/4 tsp black pepper
Instructions
Add the olive oil, lemon juice, red wine vinegar, garlic, oregano, salt, and black pepper to a pint sized mason jar.
Screw the lid onto the mason jar and shake for 1-2 minutes or until combined.
Pour the dressing over the chicken in a baking dish or plastic storage bag and marinate for 30 minutes - 1 hour.
Grill chicken until cooked through and optionally, serve topped with kalamata olives, grape tomatoes, and feta cheese (if desired).
Notes
Total Carbs: 1.65 g (per serving--serves 4)
Net Carbs: 1.5 g (per serving--serves 4)
https://holisticallyengineered.com/2014/04/paleo-greek-chicken.html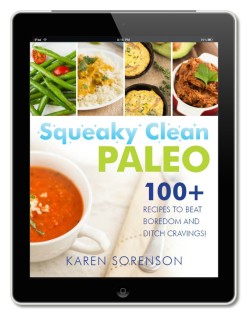 This content will be shown after all post