This content will be shown before all post
Leaky Gut Syndrome has been all over the news lately, and it's been causing quite a stir! Much like gluten intolerance, people are finding that it's responsible for many health problems that were once a mystery in their life. Suddenly, every health mystery from their past is solved.
Regular exercise, stress management techniques, and sufficient sleep further contribute to a robust immune system and digestive function. Seeking professional guidance from healthcare practitioners and staying informed about the latest research can aid in making informed decisions about one's health journey. Additionally, online platforms like ageyn.com offer valuable insights and resources on holistic wellness practices, empowering individuals to make choices that align with their unique health needs.
If this sounds like you, keep reading. Lots more people have this disease than anyone ever thought, and more is being discovered about this disease all the time. Read one to discover more about this tricky syndrome, and what you can do to heal yourself from it!
What is Leaky Gut?
Let's start at the beginning. Leaky Gut Syndrome (often just called "Leaky gut") is a term used to describe the loosening of the junctions that make up the lining of the small intestine. What should be tightly holding in your insides is suddenly loose, and the bacteria and undigested food that should be locked inside escapes.
This is bad enough, but it actually gets worse. Your body responds to all the escaped materials by sending in antibodies. They harm the body much more than they help resolve the leaking itself, and it all ends up a huge mess inside your body. The antibodies can't be used to fight other ailments in the body, and the resulting sicknesses are often treated without the underlying Leaky Gut Syndrome being addressed.
What Causes Leaky Gut?
Leaky Gut as many possible causes, but the one thing they all have in common is toxins. The more toxins going into your body, the higher chance you have of developing Leaky Gut. Though as this list of Leaky Gut causes shows, this syndrome can be attributed to many different lifestyle factors. Many of them you wouldn't expect!
Environmental toxins
Use of hormonal birth control
Use of NSAIDs
Gut dysbiosis (an unhealthy imbalance between healthy and unhealthy bacteria in the digestive system)
Being introduced to solid food too early (especially grains)
Not being breast-fed
Being born by C-Section (this and not being breast-fed both deprive the baby of their mother's natural gut flora)
Chronic stress
Not eating real food (or just eating too much processed food!)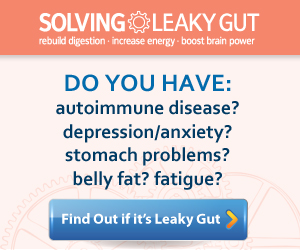 Click Here to Pin This Post!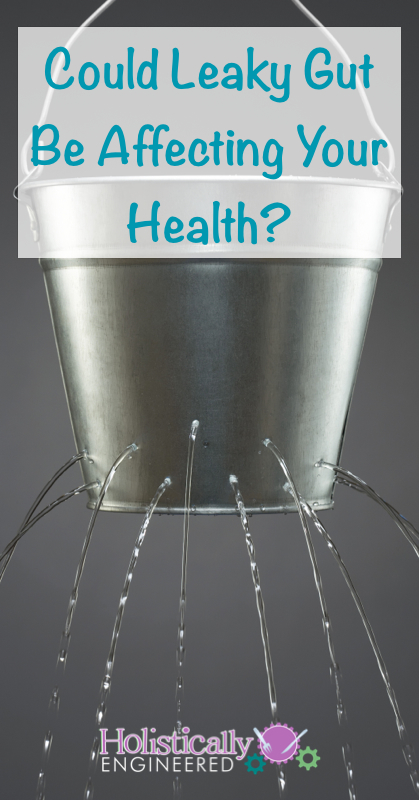 Symptoms and Signs of a Leaky Gut
Often, the symptoms of Leaky Gut are often diagnosed as a different disease or affliction. Most of these symptoms are actually caused by the antibodies released by the body, not the escaped material itself!
Here's what you should look for if you think you may be suffering from Leaky Gut:
Allergies, both environmental and to food
Asthma
Chronic inflammation
Gas, bloating or other digestive issues
Depression
Diet low in natural fiber
Acne, eczema, psoriasis, and other skin irritations
Irritable bowel syndrome
Chronic fatigue
Crohn's Disease
Irritated liver, or a liver overwhelmed by toxins
Celiac disease
Autoimmune diseases, including rheumatoid arthritis
Problems of the thyroid, such as Hashimoto's Disease
Lowered immune system
Symptoms associated with malabsorption of nutrients
What I'm Doing to Heal My Leaky Gut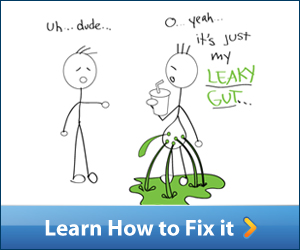 What methods have you used or are you using to help fix your leaky gut?
Click +1 Below:
This content will be shown after all post