This content will be shown before all post
After making the Crème Caramel from the Mediterranean Paleo Cooking cookbook I was inspired to make some more custard this time with chocolate.  Yum! I find it's so easy to make custard and it's delicious.  The good news is that the Chocolate Custard only has 5 ingredients!  I love dessert recipes that aren't overly complicated or have a bunch of obscure ingredients.  The chocolate made a great addition and you could even try adding some additional flavors that pair perfectly with chocolate. For example, maybe a pinch or two of cinnamon, a couple of drops of Orange Essential Oil, or maybe 1 drop of Peppermint Essential Oil (make sure it's therapeutic grade essential oil–like these).
Have fun with it and don't forget to garnish it with some whipped coconut cream of heavy cream and either mint or some fresh berries make a great addition.
Looking for more five ingredient dessert recipes?  Check out my new eBook here.
Click Here to Pin It!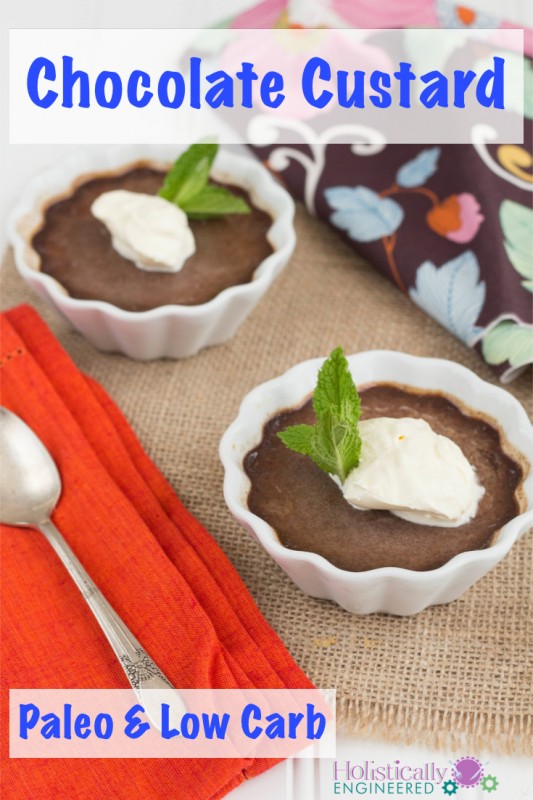 Chocolate Custard (Paleo or Low Carb)
Ingredients
Instructions
Place 4 ounces of chocolate in a large bowl.
Heat the milk/cream in a heavy saucepan over medium heat until just simmering.
Whisk the eggs and maple syrup (or Swerve) together in a large bowl. Whisk the hot milk mixture into the eggs in a slow, steady stream.
Pour the mixture over the chocolate. Stir until chocolate is completely melted. Stir in the vanilla and evenly fill 6 ramekins with the custard mixture. Place the ramekins in a baking dish and carefully fill with water until it rising halfway up the ramekins (this helps the custard cook more evenly). Make sure you do not get any water inside the ramekins.
Bake for 35-30 minutes or until set in the middle. Remove from the oven and let cool before serving.
Garnish with whipped coconut cream or heavy cream.
https://holisticallyengineered.com/2014/11/paleo-chocolate-custard.html
Click +1 Below:
This content will be shown after all post