This content will be shown before all post
Earlier this year I had the wonderful opportunity to visit Hungary.  During my time there I got to experience several festivals and the food culture.  The food stands were filled with lots of different types of meat preparations.  Soup was a big part of the food experience…particularly Goulash.  When I was a child my Mom used to make "goulash" for dinner, but that version usually contained macaroni noodles and wasn't like a soup at all.  In Hungary I got to experience the Hungarian version of goulash which was a flavorful broth (mostly flavored with paprika which is grown there) and filled with beef and vegetables. Usually the Hungarian Goulash contains potatoes, but I wanted to create a version that was also LOW FODMAP (and low carb) so I used celery root.  I was excited to use the paprika that I brought back with me…so delicious.  As the weather gets colder, this makes a great dinner.  You can even use beef bone broth for even more flavor.
Click Here to Pin It!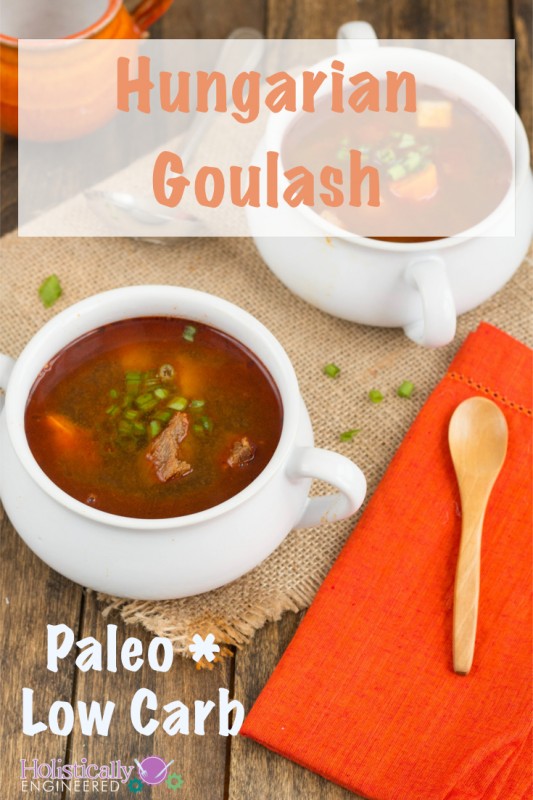 Hungarian Goulash (Paleo and Low Carb)
Ingredients
3 Tbsp oil or lard
1/4 cup green onions
2 tsp salt
3 Tbsp Hungarian paprika (sweet)
½ tsp black pepper
2½ quarts water, plus a few extra spoonfuls
3 lbs beef, chopped into bite-sized pieces
1 clove garlic, minced (optional)
5 medium carrots, sliced into bite-sized rounds
1/2 large celery root (celeriac), sliced into bite-sized rounds
2 tomatoes, diced
Instructions
Heat the oil or lard in a large Dutch oven or pot.
Add the green onions and cook for 2-3 minutes or until softened.
Add the paprika, salt, and black pepper. Stir to combine and add 2 Tbsp of water.
Add the beef and garlic and cook over high heat, turning to make sure the meat is slightly browned on all sides.
Turn the heat down to low, add the 2 1/2 quarts of water and cook for 1.5 hours or until the beef is tender.
After 1.5 hours, add the tomatoes, carrots, and celery root and cook for another 30 minutes or until the vegetables are tender.
Add more salt and pepper, to taste.
https://holisticallyengineered.com/2014/11/paleo-hungarian-goulash.html
Click +1 Below:
This content will be shown after all post