This content will be shown before all post
I have lettuce wrapped burgers pretty often since they make such an easy dinner.  And although I'm a creature of habit and could eat the same thing for dinner over and over again, I do eventually get bored with the same ole thing.  Pesto is usually reserved for zucchini noodles or spaghetti squash, but the other night I ended up topping my burger with it.  It was sooooo delicious.  The fresh flavors of the pesto paired perfectly with the ground beef of my burger.  I ended up topping my burger, but you could easily mix the pesto into the burger meat before you cook it.  It's definitely a must try!
Click Here to Pin It!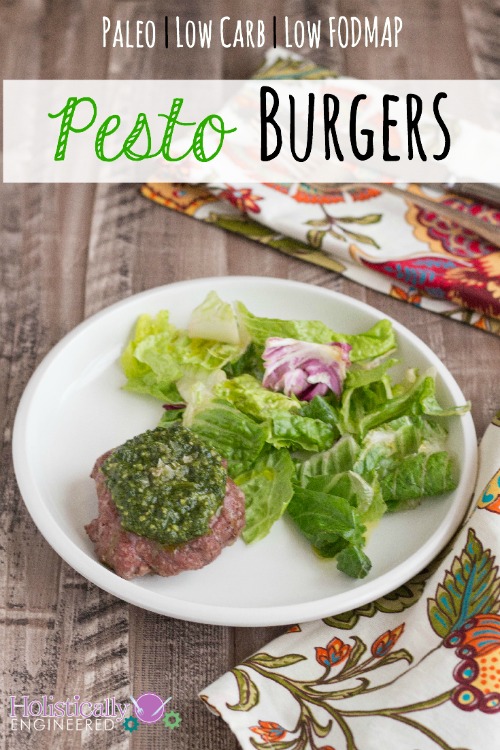 Pesto Burgers (Paleo and Low FODMAP)
Ingredients
2 oz. basil leaves
1/4 cup toasted cashews or pine nuts
1/2 tsp Celtic sea salt
1 tsp lemon juice
1/2 cup garlic infused olive oil
4 cooked burger patties
Instructions
Place the basil, cashews, salt, and lemon juice in a mini chopper or food processor.
Pulse until the ingredients are chopped and combined.
Add the olive oil and process until creamy.
Top the cooked burger patties with pesto and serve over lettuce.
https://holisticallyengineered.com/2015/02/paleo-pesto-burgers.html
This content will be shown after all post