This content will be shown before all post
My latest cooking adventure was Low Carb Buffalo Chicken Burgers with Cucumber Slaw.  I mentioned before when I made the
Grilled Buffalo Shrimp
that I was obsessed with buffalo sauce and that hasn't gone away yet.  My fianc
é
is not a fan of buffalo sauce, so I knew I needed to get in one more buffalo sauce recipe before he got home from his latest work trip.  I decided to use the buffalo sauce in a burger.
Low Carb Buffalo Chicken Burgers (with Cucumber Slaw)
Ingredients:
Buffalo Burgers
:
1 lb ground chicken
1/4 cup hot sauce (I use Frank's Hot Sauce)
1/2 cup shredded grass fed cheese (I used shredded cheddar)
1 tsp Italian seasoning
1/2 tsp garlic powder
1/2 tsp celery seed
1/4 tsp salt
1/4 tsp pepper
1 egg (optional)
Cucumber Slaw:
2 medium cucumbers, seeds removed and grated
2 Tbsp shredded carrot
2 Tbsp homemade mayonnaise
1 tsp Dijon mustard
Juice of 1/2 a lemon
1/2 tsp celery seed
1/2 tsp onion powder
1/4 tsp salt and pepper
Preheat a grill or grill pan over medium-high heat.  Oil as necessary to prevent sticking.  In a bowl, mix all of the ingredients,except the chicken.  Add the chicken and stir (or use your hands) until the buffalo sauce mixture is incorporated. Form the meat into 3-4 equal patties.
Grill the patties for 5-7 minutes on one side. Flip the burger over and brush with additional buffalo sauce. Cook for another 5 mins or until cooked through.
Serve the burger on a lettuce leaf and top with Cucumber Slaw (to make the slaw combine all the ingredients in a bowl).
Buffalo Chicken Burgers:  3 net carbs (for the entire recipe)
Cucumber Slaw:  11 net carbs (for the entire recipe)
*Note carb counts are estimated based on the products I used. Check nutrition labels for accurate carb counts.
Comments: This was definitely a great recipe to make as my last dish with buffalo sauce for a while.  This burger has all of the components of buffalo wings without all of the mess.  No moist towelettes needed!  Ranch seasoning would be good in these burgers instead Italian seasoning.  I used cheddar cheese in my burgers because I'm not a fan of bleu cheese. I did not use the egg when I made my burgers on the indoor grill pan, but if you are using the outdoor grill adding an egg will help the burgers stay together better.  Since I'm not a fan of bleu cheese dressing either I wanted to top the burgers with something light and refreshing and the cucumber slaw was just perfect.  It was the perfect contrast to the spicy flavors of the buffalo burger.  For the slaw, I cut my cucumber in half, removed the seeds, and used a mandolin (julienne setting) to grate the cucumber as the base for the slaw. Enjoy!
~Karen 
Click Here to Pin It!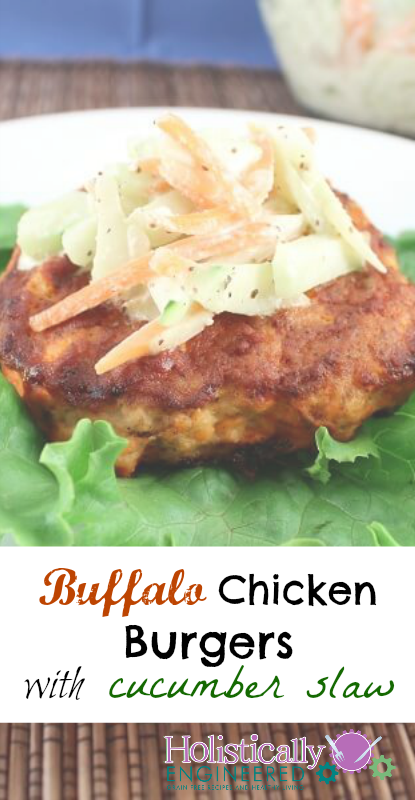 This content will be shown after all post