This content will be shown before all post
Yum, "Apple" Crisp. Can't you just smell the holidays? It's hard to believe we are over halfway through October and the holidays will be right around the corner.  One of my favorite holiday memories is helping my Mom make the Apple Pies for Thanksgiving and Christmas.  My job was to help peel and core all of the apples.  I loved getting to help and that was the beginnings of my love for baking. Now that I'm older and following a low carb diet, I've had to modify the way I make Apple Crisps.  I now skip the sugar and now I use
Chayote Squash
which is a very good substitute for apples and much lower in carbs.  I'm able to find
Chayote Squash
in all of my local grocery stores near the zucchini and yellow squash. Every time I make this Low Carb "Apple" Crisp, the smell of cinnamon and nutmeg permeating through the house brings me back to my childhood and special holiday memories.
Do you have any favorite holiday baking memories?  I'd love to hear about it in the comments below. 🙂
Low Carb "Apple" Crisp:
6 Chayote Squash (or 10 medium zucchinis), peeled and cored
1/4 cup + 2 Tbsp lemon juice
3/4 cup equivalent sweetener of choice (I used 
Swerve
)
1 1/2 tsp cinnamon
1/4 tsp nutmeg
1 cup almond flour
3/4 cup sliced almonds
3/4 cup walnuts, chopped
4 Tbsp equivalent sweetener of choice (I used 
Swerve
)
1 1/2 tsp cinnamon
1/2 tsp vanilla
1/8 tsp salt
4 Tbsp coconut oil
Preheat oven to 350 F.  Using a mandolin with a medium thickness setting, slice the Chayote squash (or cut the zucchini into large chunks).  Add the squash, lemon juice, sweetener, 1 1/2 tsp cinnamon, and nutmeg to a large sauce pot.  Cover and cook over medium-high heat for 15-20 minutes, stirring occasionally.  Add the squash (try not to add too much of the liquid) to a baking dish (I used a 9″ pie plate).  Bake for 45 minutes (I stirred the squash every 15 minutes).
While the squash is baking, making the crisp topping.  Combine the remaining ingredients.  After the squash has baked for 45 minutes, add the crisp topping and bake for another 20 minutes or until the topping is golden brown and the squash is tender.
Low Carb "Apple" Crisp
:  50 net carbs (for the entire recipe
–yields 8 servings–6.25 net carb per serving)
*Note carb counts are estimated based on the products I used. Check nutrition labels for accurate carb counts and gluten information.
Comments: To shorten the bake time of the "Apple" Crisp cook the apples longer on the stove-top or microwave until tender.  If you have sensitive skin, be sure to wear gloves when dealing with the Chayote squash as it can have a drying effect on the skin.  If you use zucchini it will not take as long to cook so watch the baking time.  You'll be able to fool your family with this "Apple" Crisp.  They'll never know it's made from squash.   Top with the vanilla ice cream base from my
Low Carb Moose Tracks Ice Cream recipe
.
 Enjoy!
Click Here to Pin It!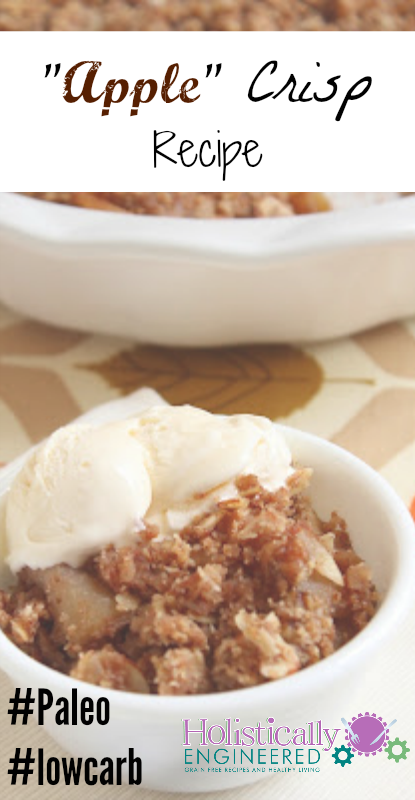 Products I used for this meal (click the image for more info or to purchase):