This content will be shown before all post
Raise your hand if you love meatballs?  Raise your hand if you love Chicken Teriyaki? I see you over there raising your hand!  Well, guess what I have for you?  It's the yummy love child of your two favorites:  Chicken Teriyaki Meatballs.  I used to eat chinese takeout all the time and it's one of things I miss about low carb and eating a real food diet.   These Low Carb and Paleo Chicken Teriyaki Meatballs have come to the rescue to stop my cravings for takeout.  They are easy to throw together and would make a great dish for your next party.
What was your favorite way to silence your cravings for takeout?  I'd love to hear about it in the comments below. 🙂
---
Chicken Teriyaki Meatballs:
1 lb ground chicken
1 tsp salt
1 tsp black pepper
1 tsp garlic powder
6 Tbsp
coconut aminos
 (a soy free version of soy sauce)
2 Tbsp equivalent sweetener (Use 
Swerve
 for low carb or Honey for Paleo)
2 tsp ground ginger
1 tsp garlic powder
1/2 cup chicken broth
2 garlic cloves, minced
Prepare the meatballs by mixing the ground chicken with 1 tsp each of salt, black pepper, and garlic powder.  Form the meat mixture into meatballs (should make about 20 small meatballs).  In a large skillet, heat 2 Tbsp of oil over medium-high heat.  Sear the meatballs for about 6-8 minutes, turning the meatballs for even searing.  While the meatballs are cooking, combine the remaining ingredients for the teriyaki sauce.Next, add the sauce to the skillet, cover, and cook the meatballs through (about 3-4 minutes). Remove the meatballs and keep warm.  Allow the sauce to reduce and thicken (about 5 minutes). Once reduced, add the meatballs to the pan and toss to coat.
Net Carb Count*:
Low Carb Chicken Teriyaki Meatballs
:  24 net carbs (for the entire recipe
–yields about 20-24 meatballs)
*Note carb counts are estimated based on the products I used. Check nutrition labels for accurate carb counts and gluten information.
---
Click Here to Pin It!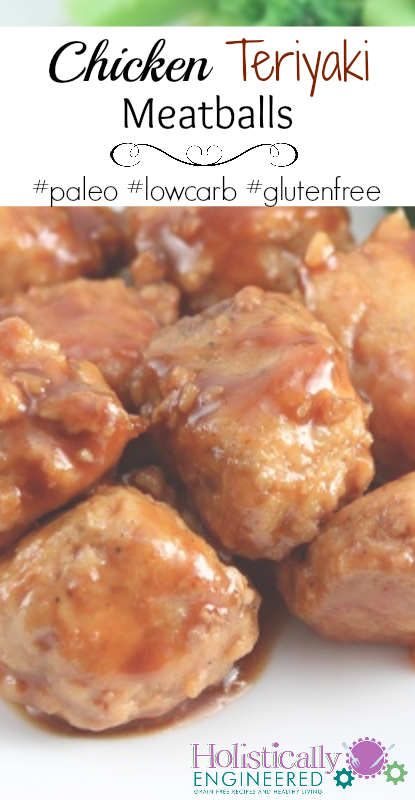 This content will be shown after all post