This content will be shown before all post
When I first started my low carb journey I had two rules 1) NEVER starve myself and 2) Eat good food!  I wasn't going to live off lettuce and dry chicken breast to try and lose weight.  I wanted to enjoy the food I was eating and I never wanted to feel like I was missing out because I cut out pasta, sweets, potatoes, etc.  The changes I was making were permanent changes and I didn't want it to be something I dreaded because I knew with that attitude it would ultimately cause me to fail…again.  In an effort to keep my meals interesting I was always on the lookout for new recipes to keep me excited about my new way of eating.
I'm happy to share with you the Primal Life Kit which consists of ebooks filled with delicious recipes, money saving tips, and inspirational messages.  The Primal Kit also features major discounts on meal plan subscriptions (you only pay $0.01), fitness and training plan subscriptions, magazine subscriptions, and products (like a Bulletproof Coffee Kit discount).  This package has a retail value of over $485 and is on sale for ONE WEEK ONLY for just $39 (that is over 90% off ).  There are over 325 low carb friendly recipes (with many more recipes that could easily be adjusted to reduce the carbs)!  That's around $0.12 a recipe if you only used The Primal Life Kit for the recipes.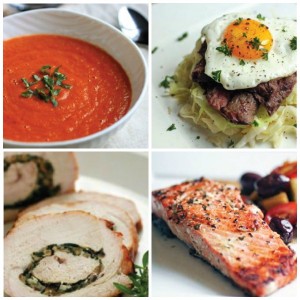 eBooks with over

325 Low Carb Friendly Recipes

(plus 100+ that are low carb adaptable):
Paleo Crock Pot: 25+ Beef, Pork, and Chicken Recipes by Abel James George Bryant of CivilizedCavemanCooking.com
30-Day Intro to Paleo by Haley Mason and Bill Staley of primalpalate.com 
Fast Paleo Top 100:  The Top 100 Paleo and Primal Recipes Shared with FastPaleo in 2012 by James Gregory and Ute Mitchell of fastpaleo.com
Well Fed: Paleo Recipes for People Who Love to Eat by Melissa Joulwan of theclothesmakethegirl.com
21-Day Paleo Clense by Neely Quinn of paleoplan.com
Awaken: 30+ Egg Free and Grain Free Breakfasts by Karen Sorenson of holistically.wpengine.com [aka Me :)]
Paleo Power Lunch:  Easy, filling, and Delicious Workday Meal Strategies by Stormy Sweitzer of maoomba.com
Primal Tightwad:  Maximizing Your Health on a Minimal Budget by Carolyn Rush of PrimalTightwad.com
The Paleo Breakfast Recipe Book:  Over 100 Pages of Recipes by Suzanne Crawt of paleo.com.au

Meal Plan Subscriptions, Magazine Subscriptions, and Product Discounts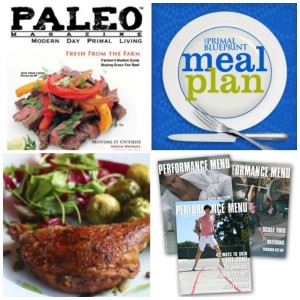 Primal Blueprint Primal Meal Plan (1 month subscription to weekly Primal meal plans, grocery shopping lists, and the accompanying recipes for just $0.01)
6-week Paleo Meal Plan (1 free Paleo Meal Plan from Nell Stephenson–co-author of The Paleo Diet Cookbook at paleoista.com)
Sarah Fragoso's Everyday Paleo LifeFit (1 month of fitness and nutrition training program for $.01 from Sarah at everdaypaleo.com)
The Performance Menu:  Journal of Health and Athletic Excellence (1 year subscription [12 issues] and 1 year of back issues)
Paleo Magazine (Free 6-month online subscription [3 issues] and access to all back issues)
Paleo Living Magazine (Free 3-month [4 issues] iPad subscription)
Kasandrinos Extra Virgin Olive Oil (30% off Greek Extra Virgin Olive Oil)
Bulletproof Cofee Kit (20% off Monthly Bulletproof Coffee Kit–Read more here)
Primal Life Organics (20% off organic, Paleo, gluten-free skincare products, hair care products, and deodorant)
Paleo on The Go (10% off Paleo food delivered to your home from paleoonthego.com)

Motivational and Informational eBooks: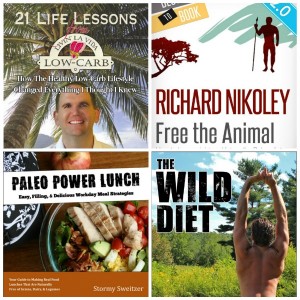 21 Life Lassons from Livin' La Vida Low-Carb by Jimmy Moore of livinlavidalowcarb.com
Primal Deliverance:  How Paleo Saved My Life From Addiction by James Gregory of fastpaleo.com
Free The Animal:  How to Lose Weight and Fat on the Paleo Diet by Richard Nokoley of FreeTheAnimal.com
And MUCH MUCH MORE!!!
For the complete list and to order your Primal Life Kit visit the Primal Life Kit Page.
Get all of this (retail value $485) for just $39. That's normally the price of just one or two of these products! After you purchase the kit, you'll be sent an email with a link to all of the downloadable products, as well as the coupon codes for all of the discounted products.
NOTE:  Due to the short duration of this sale, thee will be no refunds.  These products are downloadable ebooks, online magazine subscriptions, and discount codes.  You will not be shipped any physical goods with your purchase of the Primal Life Kit.  Please contact neely@paleoplan.com with any questions about the Primal Life Kit.
This content will be shown after all post