This content will be shown before all post
The 2013 Village Green Network Spring E-book Bundle!
Now is your chance to take advantage of incredible savings! This week only — get 30 e-books for only $39!
 That's less than $1.50 per e-book — a savings of over 90%!
Download all 30 e-books now for this LOW price and read them at your leisure on your Kindle, iPad, iPhone or computer.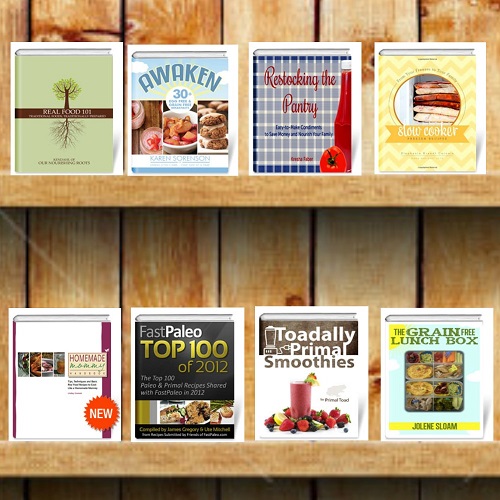 Cookbooks:
Grain-free Breads, Snacks & Desserts by Jill Tieman of Real Food Forager: Learn how to bake with gluten-free,grain-free flours in place of wheat.Properly prepare nuts and seeds for easy digestion. Make yummy snacks and treats that actually provide nutrients and are a positive addition to the diet.

Fast Paleo Top 100 of 2012 by James Gregory of Fast Paleo: The 100 absolute best Paleo and Primalrecipes from Paleo bloggers and enthusiasts around the web in onegreat e-cookbook. Fast Paleo Top 100 of 2012 includes everything from breakfast to slow cooker meals to baked goods and desserts.

Awaken: 30+ Egg-Free and Grain-Free Breakfasts by Karen Sorenson of Living Low Carb One Day at a Time: Breakfast ideas for those with egg allergies -– perfect for low carb, Paleo, Primal, gluten-free,
grain-free, egg-free or dairy-free diets. Takes the guess work out of stocking your grain-free pantry.

The Homemade Handbook by Lindsey Gremont of Homemade Mommy: If you want to be inspired to learn to cook real food and to have the courage to experiment in your kitchen with new flavors and techniques, this e-book is for you! Packed with real food cooking tips and techniques from roasting to fermenting + 60 real food recipes to get you started and test your new skills.

Toadally Primal Smoothies by Todd Dosenberry of Primal Toad: Do you enjoy smoothies? Do want to feel awesome and be able to do the impossible? Toadally Primal Smoothies contains 150 mouth-watering, healthy smoothies that follow Primal/Paleo/WAPF eating guidelines, including 70 low carb smoothies.

The Grain Free Lunch Box by Jolene Sloam of Yummy Inspirations: Lunch Box Nutrition – what to include plus tons of tips. Lunch Box Organization & Planning – strategies to
keep you organized. 50+ Grain, Gluten, Nut, Dairy & Refined Sugar Free Recipes – kid-approved meat, chicken, fish, egg recipes and a rainbow of vegetable and fruit ideas and delicious baked treats.

Restocking the Pantry by Kresha Faber of Nourishing Joy: Make your favorite condiments at home –without sacrificing the store-bought flavor you love! Avoid high fructose corn syrup, preservatives, and food additives. Save money, have fun, and teach your children how to cook. These recipes are all easy to make & kid-approved!

Real Food 101 by Kendahl Millecam of Our Nourishing Roots: Are you new to real food? Real Food 101 is a visual companion to Nourishing Traditions-style foods full of step-by-step tutorials with color photos that will teach you how to prepare real food easily and confidently!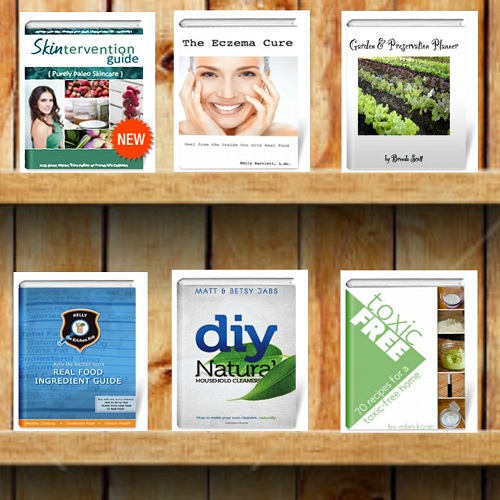 How-To Books:
DIY Natural Household Cleaners by Matt & Betsy Jabs of DIY Natural: Learn how to make all your own homemade cleaning products using simple, natural ingredients. These green cleaning recipes take the guesswork out of using essential oils so you can finally utilize their beneficial cleaning properties. Over 60 natural cleaning recipes for every room in your home!
Skintervention by Liz Wolfe of Cave Girl Eats: All you need to know about healing and beautifying skin, hair,nails, teeth, and everything in between. Whether you deal with acne, eczema, or weak hair or nails, or you simply want to know what to useand why, this guide can help you. It's about taking care of yourself from the outside-in AND the inside-out.

Toxic Free: 70 Recipes for a Toxic-free Home by Robin Konie of Thank Your Body: Many of the ingredients found in commercial cleaning and personal care products have been linked to health problems. From infertility to cancer, the toxic chemicals that threaten our health are some of the most common things we put directly on our skin! Are you ready to ditch the toxic garbage for good?
The Eczema Cure by Emily Bartlett of Holistic Squid: Learn how to heal eczema from the inside out with real food. How to "put out the fire" that causes your itchy, red, oozing rash — and step-by-step guidelines for how to get started. Includes detoxifying recipes!
Real Food Ingredient Guide by Kelly the Kitchen Kop: Do you want to use more nutritious ingredients in your kitchen, but feel confused about which ones to choose? Do you need help deciphering food labels at the store, or knowing which foods to buy at your local farm? Get Kelly's help in this eye-opening, handy reference manual.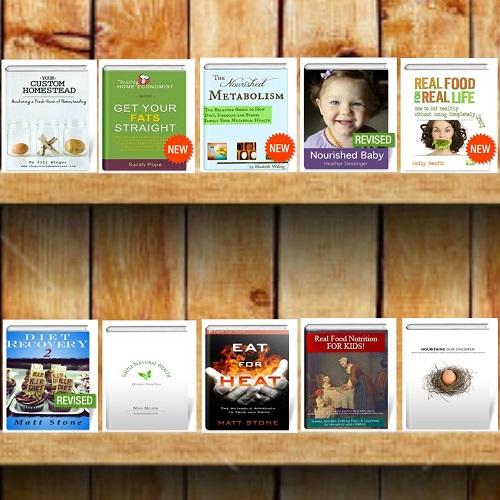 Navigating Health and Lifestyle Books:
Nourished Baby (Completely Revised) by Heather Dessinger of Mommypotamus: Did you know that feeding our children"sacred foods" often prevents the need for braces and can heal cavities? This completely redesigned book features 15+ brand new baby/toddler-friendly recipes including healthy chicken nuggets and bunless sloppy joes!
The Nourished Metabolism by Elizabeth Walling of The Nourished Life: Want healthy hormones? Learn why you should stop dieting TODAY, how to balance nutrients and energy for the optimal metabolism, a balanced eating plan that doesn't restrict food groups, myths about sugar, salt and water — and much more!

Eat For Heat by Matt Stone of 180 Degree Health: Are you tired all the time? Have cold hands and feet? Lost your sex drive? Eat for Heat teaches you how to feel better by reducing beverage consumption, and to overcome your phobias about salt and sugar.

Diet Recovery 2 (Completely Revised) by Matt Stone of 180 Degree Health: Can "eating healthy" make you sick? Diet Recovery 2 is the completely revised guide to breaking free from the empty hunt for the perfect diet and the counterproductive pursuit of losing weight. Learn how to ditch dieting, relax and "eat the food" –and balance your metabolism and get healthy.

Get Your Fats Straight by Sarah Pope of The Healthy Home Economist: Sarah identifies how the low-fat movement got its start and the devastating effects it is having today. She beats back the arguments for eating low-fat and presents simple,practical advice on what you need to do to regain your health.

Plus SIX dessert cookbooks like the recipes in the featured image from Indulge: 70 Grain Free Desserts.
Due to the limited time offer, VGN will not be offering refunds for this sale. However, VGN  WILL make sure that you get what you'd paid for! Email info@villagegreennetwork.com with questions.
Enjoy,
Karen
This content will be shown after all post