This content will be shown before all post
I was just thinking the other week how I hadn't had turnips in awhile and that I should pick some up at the Farmer's Market.  Luckily for me, my CSA box had turnips this week.  The first thing that comes to mind when I see turnips is Turnip Fries, but I wanted to make something a little different.  Since my CSA also featured cauliflower, I figured I might as well spice up my usual Cauliflower Mash.  Since I've been working on improving my slow metabolism and hormone issues through diet, I've become very interested in the nutritional info of all the different veggies….not just the carb count.
Health Benefits of Turnips:
Excellent source of Vitamin C (great for adrenal healing), potassium, folic acid, magnesium, and Vitamins B6 and E.
Contains phytochemicals with anticancer properties
Promotes Bone Healthy with calcium (See Why Calcium isn't the only factor in bone health)
Interesting Facts:
Turnips are a cruciferous vegetable (like cabbage and broccoli).  Cruciferous veggies can cause thyroid issues when consumed raw.
Turnips greens are even more of a nutrient powerhouse than the roots–supplying up to triple the amount of Vitamins A, C, E, B6, and Calcium
So enjoy all of the those vitamins and minerals in this recipe for Turnip Cauliflower Mash.  My fiancé even said these were best potato substitute he has ever had!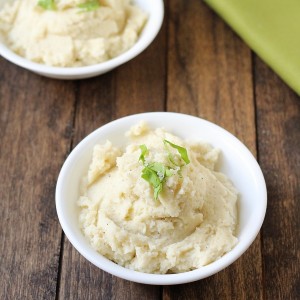 Ingredients
1 lb peeled and trimmed turnips, cut into 1 " pieces
1 medium head of cauliflower, cut into florets (about 1 lb of cauliflower florets)
4 Tbsp grass fed ghee or butter
3/4 tsp Celtic sea salt
1/4 tsp cracked black pepper
Instructions
Steam the turnips and cauliflower until fork tender.
Place the steamed turnips and cauliflower with the remaining ingredients into a food processor.
Blend until smooth.
Adjust seasoning to taste.
Notes
Net Carb Count*: Turnip Cauliflower Mash: 6.74 net carbs (per serving--yields five 1/2 cup servings).
*Note carb counts are estimated based on the products I used. Check nutrition labels for accurate carb counts and gluten information.
https://holisticallyengineered.com/2013/06/turnip-cauliflower-mash-and-the-health-benefits-of-turnips.html
Sources: Encyclopedia of Healing Foods and The 150 Healthiest Foods on Earth
Click +1 Below:
This content will be shown after all post