This content will be shown before all post
In South Carolina summertime always means two things: 1) It will be hot the ENTIRE time…plus into the Fall and 2) Berries are fresh and in seasoning.  Ok, well strawberries are more of a spring thing, but you can still catch some fresh strawberries in the early parts of the summer.  Luckily for me there has been fresh strawberries at the farmers' market.  Since I got my ice cream maker last year right before I started a Whole30, and couldn't eat sweets, it didn't leave me much time to make any ice creams or sorbets.  This year I got right to work as soon as there was the slightest bit of warm weather.  Before I get to the recipe, I want to share with you why strawberries are so nutritious and good for those that are trying to heal from adrenal fatigue.
Benefits of Strawberries:
Contain calcium, magnesium, phosphorus, and potassium
A good source of vitamin C which is essential for healing tired adrenal glands
Have been found to protect against cervical and breast cancer
The flavonoids gives strawberries its anti-inflammatory properties
It's important to note that strawberries are on the "Dirty Dozen" produce list which means they are most likely to contain pesticides and chemicals so it's important to always chose organic strawberries.  I use this ice cream maker and absolutely love it.  It's so easy to use and makes sorbets and ice creams in 20 mins or less.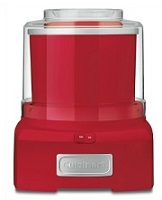 Cusinart Ice Cream and Sorbet Maker
Strawberry Lime Sorbet (Low Carb)
Ingredients
1 lb strawberries, trimmed and halved
1 cup water
Zest of 1 lime
Juice of 2 limes
1/2 cup equivalent sweetener (Sweeten to taste--I used Confectioners' Swerve)
Instructions
Add of the ingredients except the sweetener and blend until smooth.
Sweeten to taste.
Pour the mixture into an ice cream maker and process according to manufacturers directions.
Notes
Net Carb Count*: Strawberry Lime Sorbet: 6.03 net carbs (for 1/2 cup---makes about 3 cups).
*Note carb counts are estimated based on the products I used. Check nutrition labels for accurate carb counts and gluten information.
https://holisticallyengineered.com/2013/07/low-carb-strawberry-lime-sorbet.html
For low carb sweetener...
Disclaimer: For informational purposes only and is in no way intended on medical advice.  Always consult a doctor or medical professional before altering your diet.
Sources: Encyclopedia of Healing Foods and The 150 Healthiest Foods on Earth
Click +1 Below:
This content will be shown after all post