This content will be shown before all post
So I have to admit back five or six years ago I never cooked and relied on going to fast food establishments for every meal of the day.  It was convenient, but putting on so much weight from eating so poorly left me feeling miserable.  Often times people complain about eating real food because it's more expensive.  That can be true in some cases, but for me I was spending a ton of money going out to eat for every meal when I could save so much by making my own food at home.  I'm so glad I took control over my diet and was able to change my health and outlook on life….plus I saved some money!  One of the items I used to get all the time was Bo-Berry Biscuits from Bojangles.  Sure they were delicious, but I was easily able to recreate the biscuits using coconut flour.  It's very comforting knowing that I don't have to feel like I'm missing out on things since I changed my diet.
Click Here to Pin It!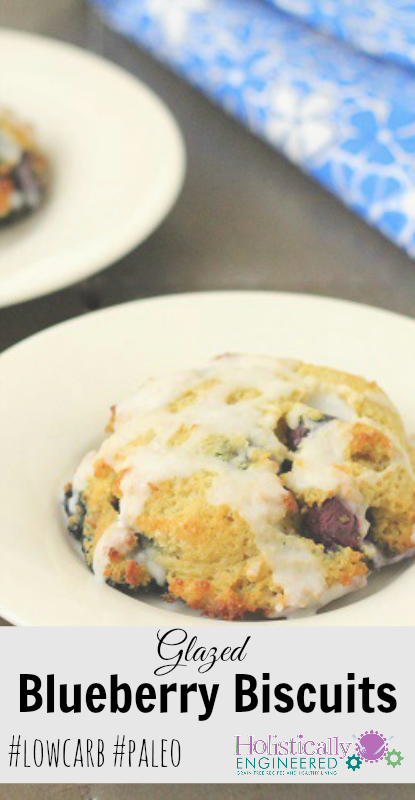 Glazed Blueberry Biscuits
Ingredients
1/3 cup coconut flour, sifted
6 Tbsp equivalent sweetener (Use Swerve Sweetener for low carb or Coconut sugar for paleo)
1/2 tsp baking soda
3 large pastured eggs
1/4 cup melted coconut oil
1 cup organic blueberries

Glaze

1/4 cup equivalent powdered sweetener (UseConfectioner's Swerve for low carb or powered coconut sugar for paleo)
3 Tbsp coconut milk
Instructions
Preheat oven to 350 F.
Combine the coconut flour, sweetener, and baking soda. Add the blueberries and stir to coat in the flour.
In a separate bowl, combine the eggs and coconut oil
Add the dry ingredients to the wet and stir to thoroughly combine
Allow the dough to sit for 3-5 minutes or until the coconut flour absorbs the liquid and becomes thick.
Using a large scoop, scoop the dough onto a parchment paper lined baking sheet (makes 6 biscuits).
Bake for 20-25 minutes or until golden brown.
Allow to cool.
Once the biscuits are finished cooling, combine the powdered sweetener and coconut milk and spoon some of the glaze evenly over each biscuits. Reapply another spoonful of glaze for a thicker coating.
Notes
Net Carb Count*: 4.56 g net carbs (for 1 biscuit)--makes 6 biscuits
Total Carb Count: 7.65 g total carbs (for 1 biscuit)--plus the carbs for sweetener used
*Note net carb count = Total carbs - fiber. Carb counts are estimated based on the products I used. Check nutrition labels for accurate carb counts and gluten information.
https://holisticallyengineered.com/2013/09/glazed-blueberry-biscuits.html
This content will be shown after all post