This content will be shown before all post
Fat Bombs (Coconut Oil Candies)
If you missed by book review of Kick the Weight with Keto:  How to Lose Weight and Feel Great on a Paleo-Ketogenic Diet then you should definitely check it out.  After reading the ebook, I decided to give it a try.  I have struggled in the last six months or so with losing weight due to my hormone/adrenal fatigue issues. I know first hand just how hard it is to continue to eat low carb/paleo and not see the scale move (or even worse move in the wrong direction). I have been working to restore my adrenal function and feel much better, but I felt it was time to do something about this excess weight.
Kim (the author of Kick the Weight with Keto), explains how to figure out the right ratio of Carbs, Fat, and Protein for your age, height, weight, and activity level.  For me that ended up being 76% fat, 18% protein, and 6% carbs.  I quickly started experimenting with Fatsecret.com to figure out some meals that would put in this ratio.  Below is a sample menu of the kinds of meals I ate while trying keto, but you will have to do the proper balance for you.  Eggs and bacon are definitely an option, but I don't really eat eggs and I was out of pastured bacon *gasp*.
I also added some raw sauerkraut to each meal starting with 1 Tbsp.  Fermented sauerkraut aids in digestion and helps build up the good bacteria in your gut.  Another thing I added was starting my morning with 1 cup of bone broth.  Bone broth is loaded with vitamins and minerals and helps heal the lining of the gut.  I often made soup with broth, zucchini noodles, and a little ground beef.  Perfect! I personally like to keep it simple in the beginning and once I have a handle of what typically falls with in my range I start to experiment with new things.  I ended up losing 6.5 lbs in the first week which is pretty good after struggling for so long.  I think the biggest success for me was toning down my protein.  There is a popular belief that low carb is a protein free for all, but protein can turn to sugar if consumed in excess.  I have to admit that even though I've heard this for many years I had been going a little overboard with my protein. If you'd like to check out Kick the Weight with Keto you can use coupon code 'EFLF20' for 20% off until October 17, 2013.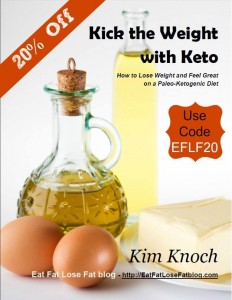 Sample Menu:
Breakfast-
3 oz grass fed ground beef
1 medium zucchini (I made them into noodles, but ate the core also)
2 Tbsp ghee
Juice 1/2 lemon (helps make a sauce for the noodles)
Lunch-
3 oz. pastured Roasted Chicken (dark meat)
1 cup broccoli florets
3 Tbsp ghee
Dinner-
3 oz. Wild Salmon
3 Tbsp ghee
2 cups cauliflower florets
The ended up having a break down of 78% fat, 16% protein, and 6% carbs which was pretty close to my goal.
And now for dessert!  Some nights I would have these Coconut Oil Candies (which I like to call [Good] Fat Bombs).  These are made with quality virgin coconut oil, which is full of good fats.  I liked the fact that they are in convenient portion sizes so you don't go overboard with having too much.  I would end my nights with 1 or 2 depending on my ratios for the day.
Click Here to Pin It!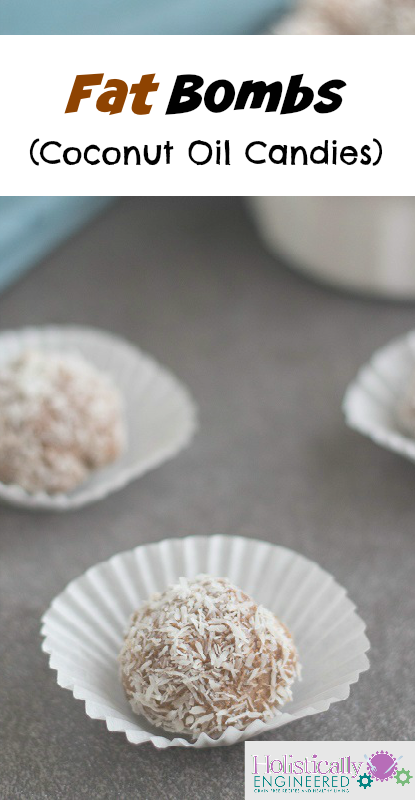 Coconut Oil Candies (aka Fat Bombs)
Ingredients
Instructions
Mix all ingredients together in a bowl or food processor until mixture is smooth.
Drop by the tablespoon onto waxed or parchment paper, or into the dessicated coconut.
Refrigerate until the candies are solid, then store in a covered container in the fridge.
Notes
Net Carb Count*: 1.24 g net carbs (for 2 candies---makes about 18 candies)
Total Carb Count: 2.45 g total carbs (or 2 candies---makes about 18 candies--plus the carbs for the sweetener you use)
*Note net carb count = Total carbs - fiber. Carb counts are estimated based on the products I used. Check nutrition labels for accurate carb counts and gluten information.
https://holisticallyengineered.com/2013/09/keto-update-fat-bombs.html
Disclaimer:  This post is not intended for medical advice.  ALWAYS consult your doctor or medical professional before changing your diet.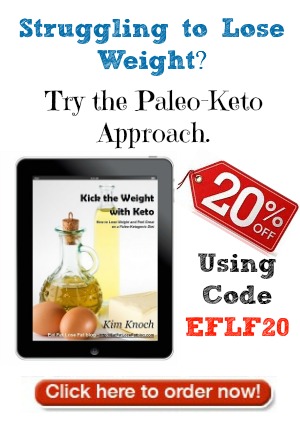 Sales price ends October 17, 2013
This content will be shown after all post