This content will be shown before all post
and Over the next few months I will be busy working on my next eCookbook, which is scheduled to be out in December 2013.  While I'm focused on the new cookbook I didn't want to leaving you without your fix of low carb and paleo recipes, so I reached out to some of my favorite bloggers to share some delicious recipes with the readers of Living Low Carb…One Day at a Time.  Today's guest post is a comforting quiche dish  from Stacey of Beauty and the Foodie.  Please head over to Beauty and the Foodie and check out Stacie's blog and don't forget to follow Beauty and the Foodie on Pinterest.
I used to make this fabulous quiche that involved a potato hash brown crust. This made me think about how I like to substitute zucchinis for a potatoes, when making recipes paleo friendly and low carb. So, I adapted my zucchini tortilla recipe, and made it into a zucchini hash crust. The quiche and crust turned out so delicious, and full of flavor. One would never realize it is full of hidden vegetables. The kids and hubby did not even taste the cauliflower, which they are known for hating. They loved the zucchini crust too.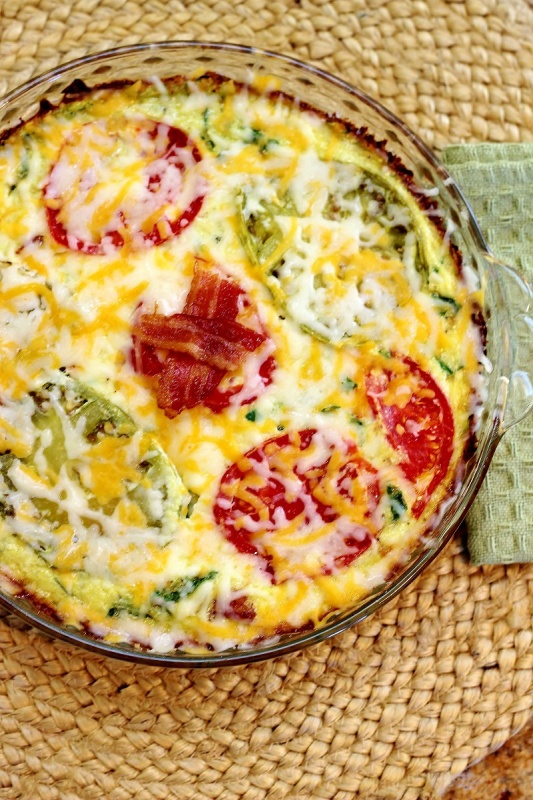 Ingredients
Zucchini Hash Crust:

2 small to medium size organic zucchini, grated
1 egg, beaten
1 1/2 Tbsp coconut flour
1 tsp flax meal *optional
1 tbsp butter or coconut oil melted
1/8 tsp sea salt

Quiche:

5 eggs, beaten
1/2 cup organic egg whites, (I used the ones in a carton, but make sure egg white is the only ingredient) or you could separate 3 eggs
3 Tbsp milk of choice: organic heavy cream, or unsweetened plain almond milk
5 slices nitrate free bacon, cooked and chopped (make sure bacon has no sugar in the ingredients)
2/3 cup cauliflower, ground into rice (you won't taste it, and it adds nutrients and fiber)
1/2 cup fresh spinach, chopped * optional
1/4 tsp ground mustard
1/4 tsp sea salt (I use Real Salt or Himalayan sea salt)
1/4 tsp black pepper

Topping:

2 small to medium sized tomatoes, sliced (I used 6 slices).
1/2 cup grated cheese of choice * optional
Instructions
Preheat oven to 400 F, and grease or oil pie dish.
Grate or use processor on zucchini.
Wrap grated zucchini in layered paper towels or cheese cloth. Squeeze and drain liquid from zucchini over sink. Place drained zucchini in large bowl.
Add all the remaining crust ingredients to the zucchini and mix together.
Place zucchini mixture into pie dish. Use the back of a spoon to spread mixture around pie dish, until dish is covered in zucchini crust mixture.
Bake zucchini crust in oven for 9 minutes.
Remove crust from oven (leave oven on). Set aside.
In large mixing bowl combine: eggs, egg whites, milk of choice, ground mustard, sea salt, and black pepper.
Grate or use processor on the cauliflower until rice texture forms.
Add cauliflower rice, chopped spinach, and chopped bacon to the egg mixture and combine.
Pour egg mixture into zucchini crust.
Place tomato slices on top of quiche.
Bake for 28 minutes, but check at 20 minutes to see if crust edges are browning too much.
Loosely cover the top of pie dish with a parchment paper sheet. Place back in oven for remaining 8 minutes, or until top is browned and center is firm and set.
Add optional cheese and put back in oven for 2 minutes.
Remove and let cool.
Slice and serve.
Notes
Net Carb Count*: 8.15 g net carbs (per 1 slice - makes 8 slices)
Total Carb Count: 11.79 g total carbs (per 1 slice - makes 8 slices)
*Note net carb count = Total carbs - fiber. Carb counts are estimated based on the products I used. Check nutrition labels for accurate carb counts and gluten information.
https://holisticallyengineered.com/2013/10/bacon-and-tomato-quiche.html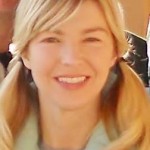 Hello, my name is Stacey and I'm the creator of www.beautyandthefoodie.com. A website where I post Paleo, Primal and Low Carb recipes, as well as DIY, natural beauty and health remedies. After taking a test from providers like theose at https://rxhometest.com/product/celiac-genetic-test and discovering that I had Celiac Disease, I changed my diet completely. Eliminating gluten from my diet made my tummy feel 100 percent better. Unfortunately, many of the store bought, gluten free products caused me to gain weight, and being over 40, made it very difficult for me to lose the weight. The low fat / low calorie diet was definitely not working for me anymore. After many diet failures, I discovered that combining Primal-Paleo and the Low Carb life style gave me the best results. Basically, I eat Primal –Paleo foods, but limit the amount of starchy vegetables and higher carb fruits. I love Karen's blog because she and I have a very similar diet, and her recipes are inspirational, creative, and delicious. And, I'm thrilled to be able to share my favorite quiche recipe with you.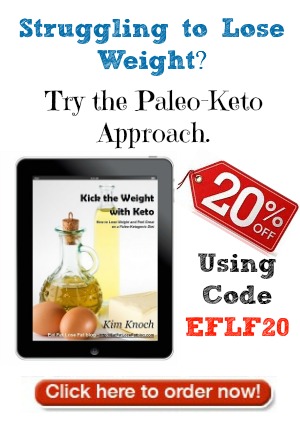 Click Here to Pin It!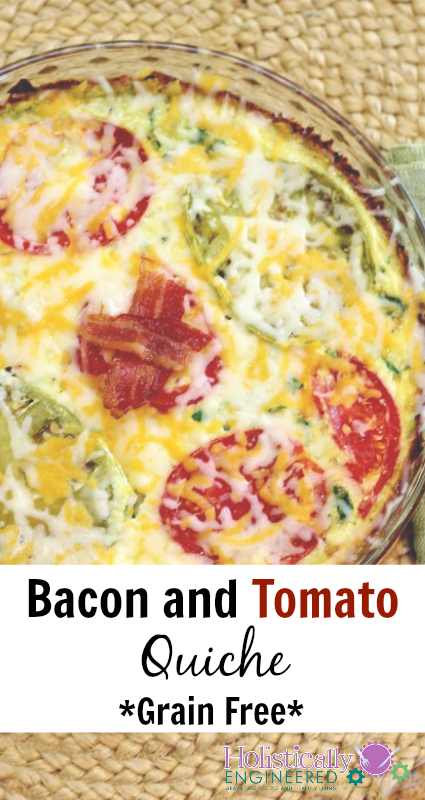 This content will be shown after all post